Visualize Wichita's three-decades-long decline through several infographics. Not that long ago, our city was an economic heavyweight. Today, our economic engine sputters, struggling to accelerate.
Taking a closer look at the ups and downs of Wichita's business cycle
Not that long ago, Wichita was an economic heavyweight. Its manufacturing base could weather the lows and soar in the highs, often outperforming the country as a whole.
Today, our economic engine sputters, struggling to accelerate and keep up.
Globalization and new technologies are shaping a starkly different economic backdrop. And though the cycle of boom, bust and recovery remains, Wichita's economic composition — once resilient — now lacks the vitality to bounce back. As Jay Price, a historical economist at Wichita State University puts it, the rising tide of the economy floats all boats, but not all boats are equally seaworthy. Detroit crashed into bankruptcy. Houston became a boomtown.
Though Wichita's situation isn't as dire as Detroit's, our city could certainly learn to better ride the economy's tides.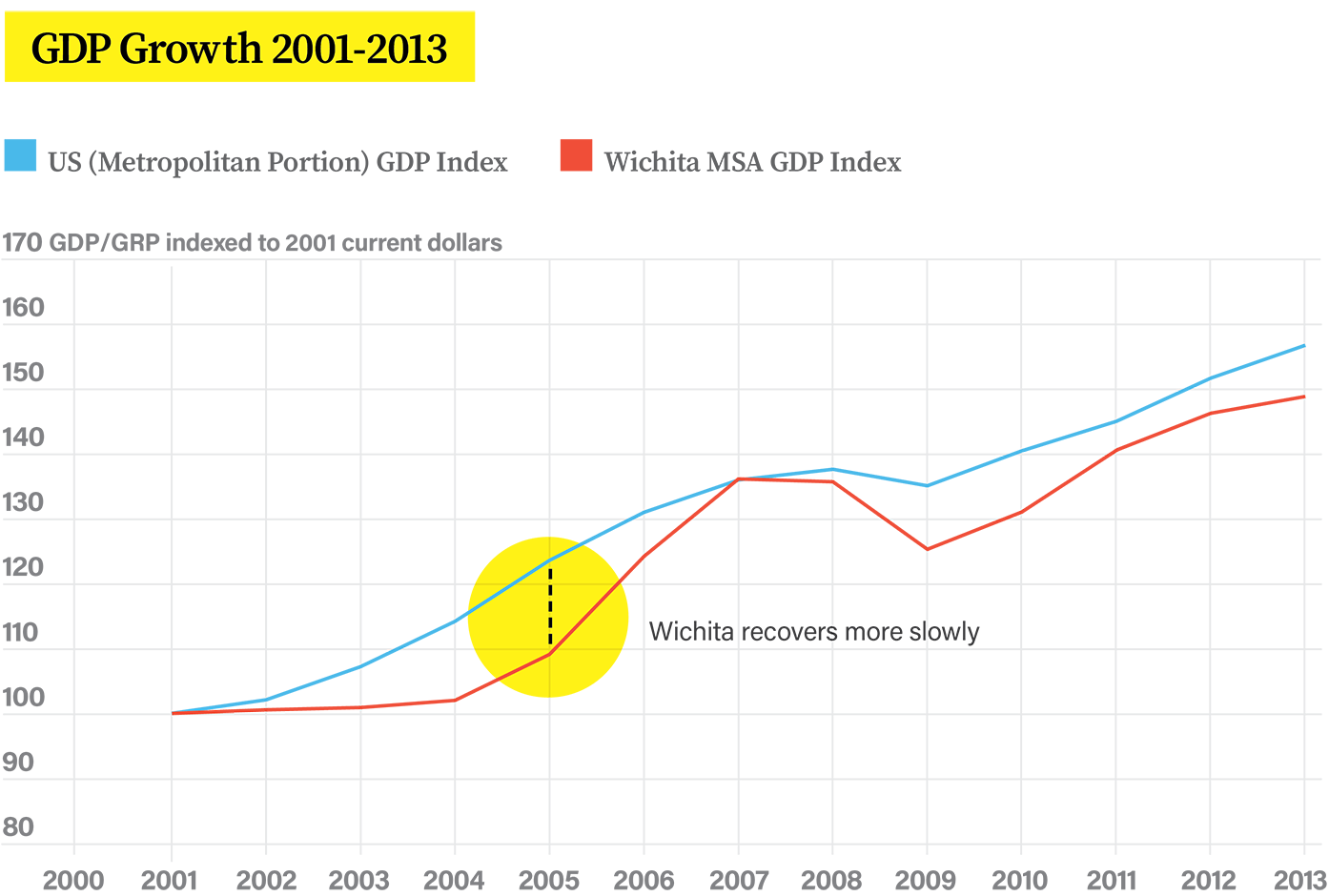 Take for example how Wichita's gross domestic product (GDP) growth matches up with the United States' Metropolitan GDP. Wichita's growth was almost nonexistent between 2001 and 2004, and still slow compared to the U.S. between 2004 and 2005.
---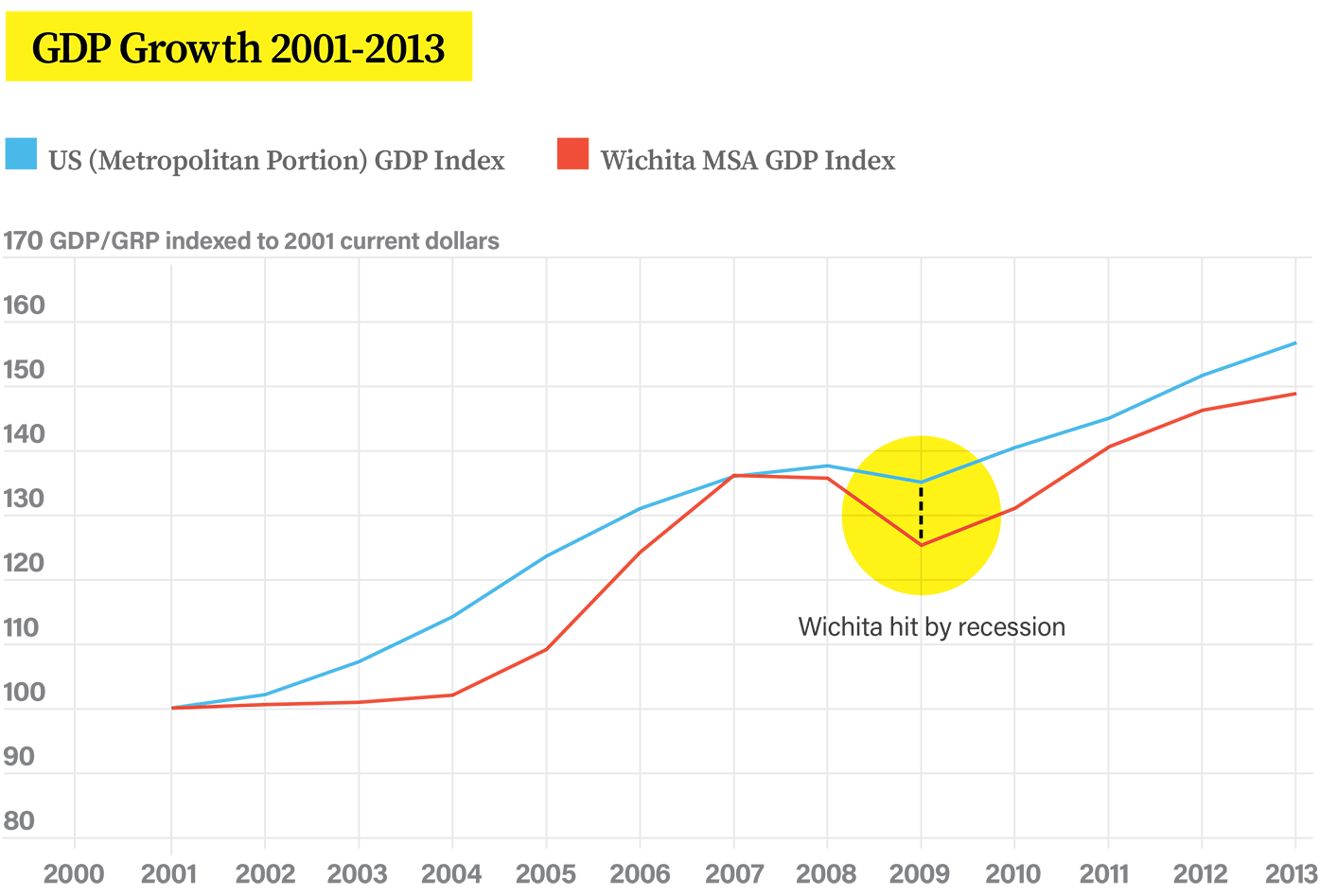 Just when Wichita seemed to catch up, another recession hit in 2008, throwing Wichita behind yet again. And when that recession happened, it hit Wichita harder than the rest of the country.
---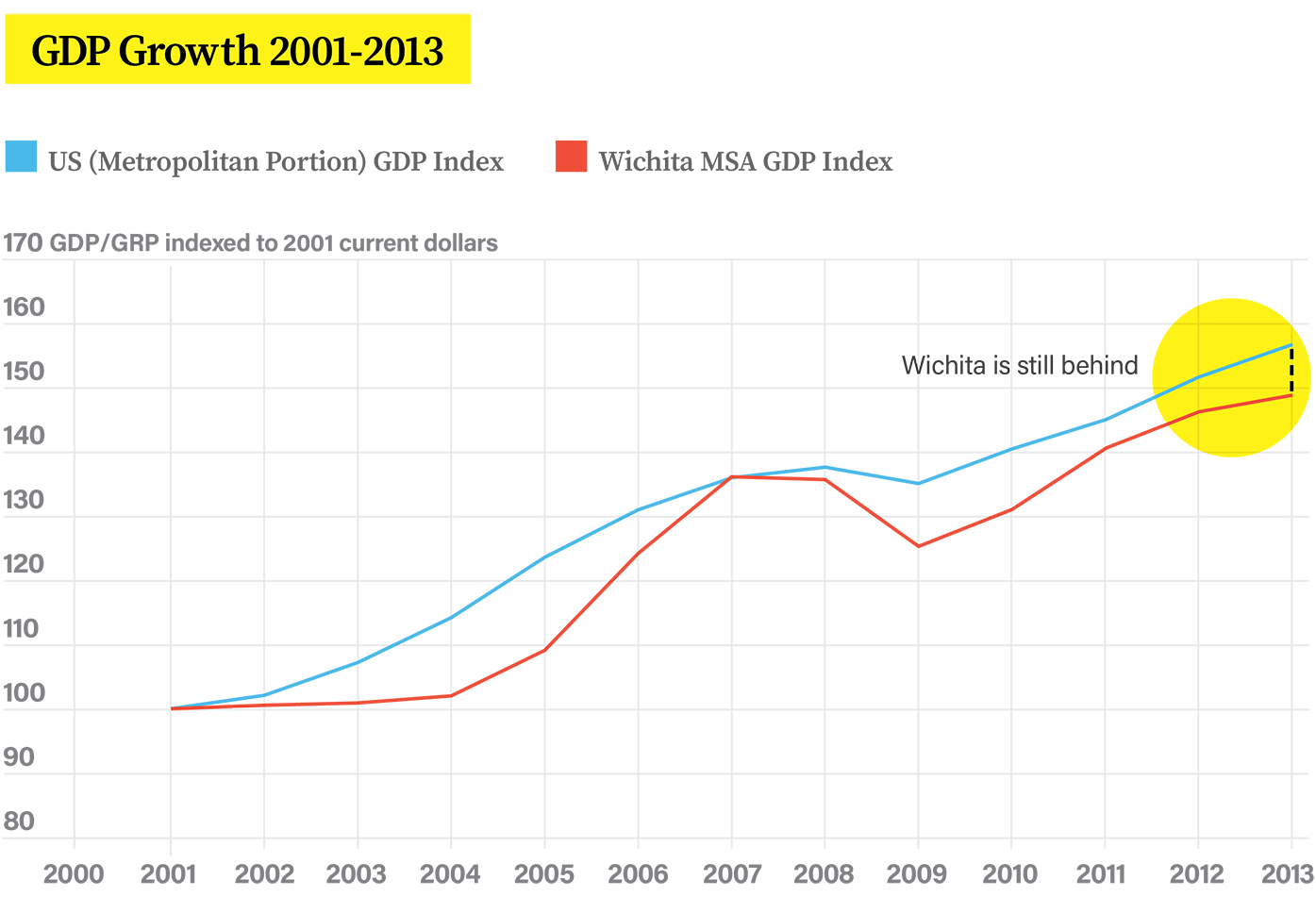 In 2013, Wichita was still lagging, increasing the gap even further.
---
Many Wichita residents and business leaders are already working to change how this city reacts to economic trends. But it's going to take all of us embracing a practical, real-world approach to addressing our weaknesses.
Then and now
[Wichita] was out-delivering its size.
In the 1980s, Wichita was highly educated, delivering 15 percent more college graduates per capita than the country at large. It was also making 8.4 percent more in household income.
"It was out-delivering its size," New York business analyst James Chung says.
Chung grew up in Wichita in the '80s and remembers it being a special place. When he was asked to come back to do an analytical check-up, he found that place had changed.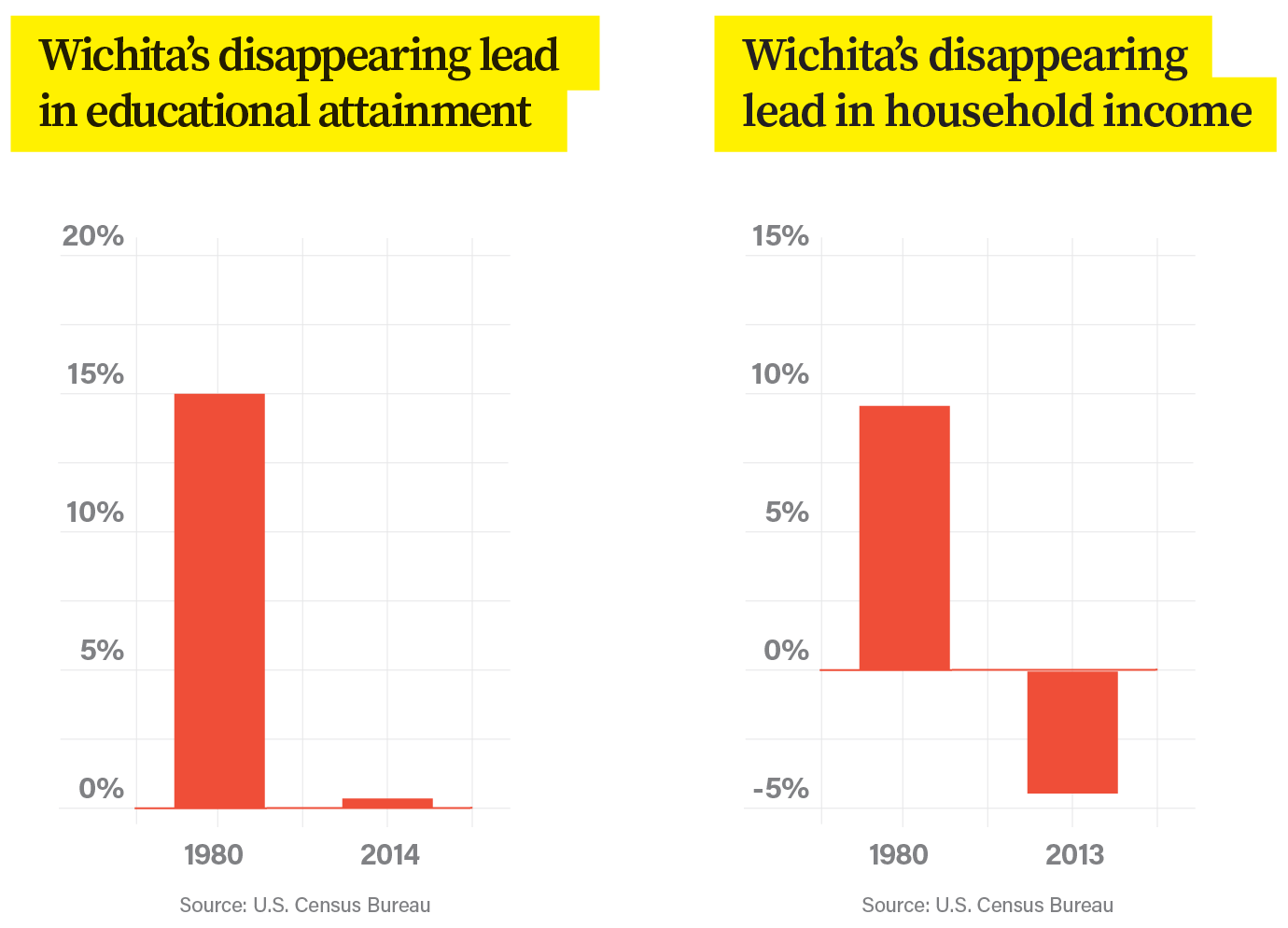 In 1980, Wichita had good-sized leads on the U.S. in both educational attainment and household income. But those leads have disappeared since.
---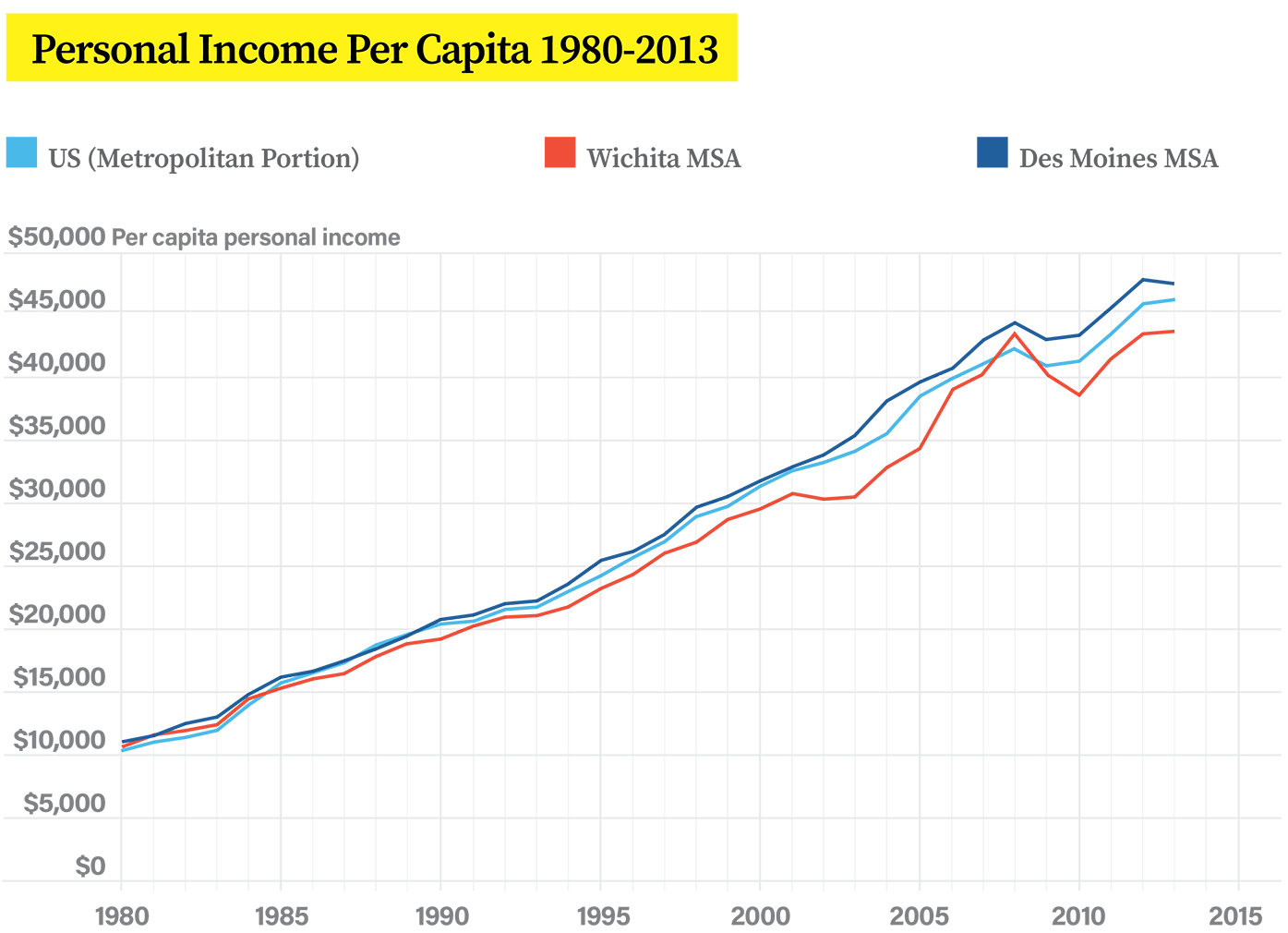 Wichita's per capita income was on par with the U.S. and Des Moines in 1980. By 2015, Wichita's income was far behind and still growing slowly.
---
Beyond just falling behind the rest of the country in per capita income growth, Wichita saw a sharp decline in educational attainment, a factor that may have contributed to the slow in income.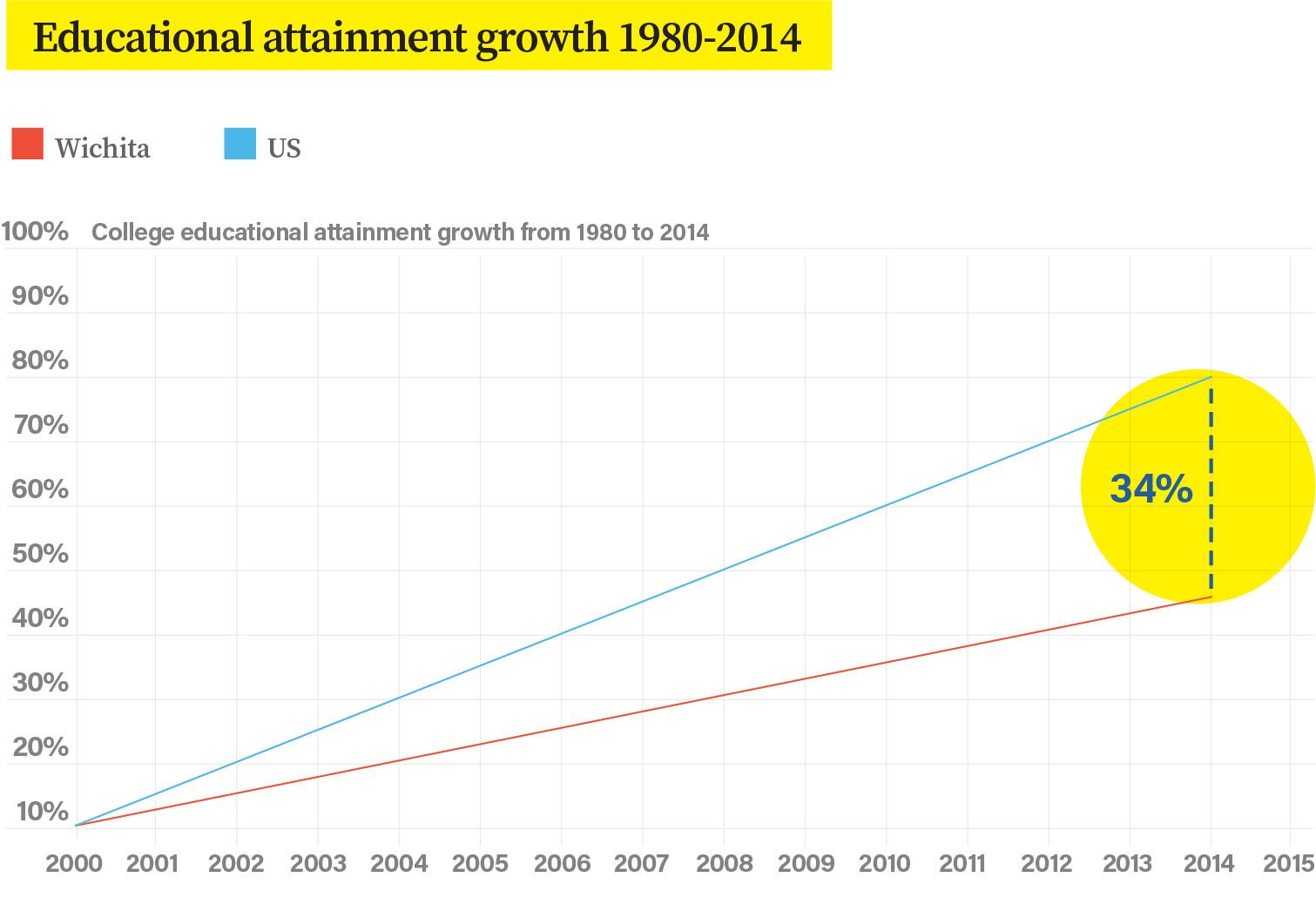 Since 1980, Wichita's educated population had only grown by 46 percent. The U.S. at large grew by 80 percent. Keep in mind that in 1980, Wichita had 15 percent more college grads per capita than the U.S.
---
While this is a challenge that faces many Midwestern manufacturing-based cities, there are comparable cities that have found ways to keep up and, in some cases, outperform the broader economy. Despite a similar manufacturing base to Wichita, and being nowhere close to oceans or mountains, Des Moines' business cycle has withstood recession after recession.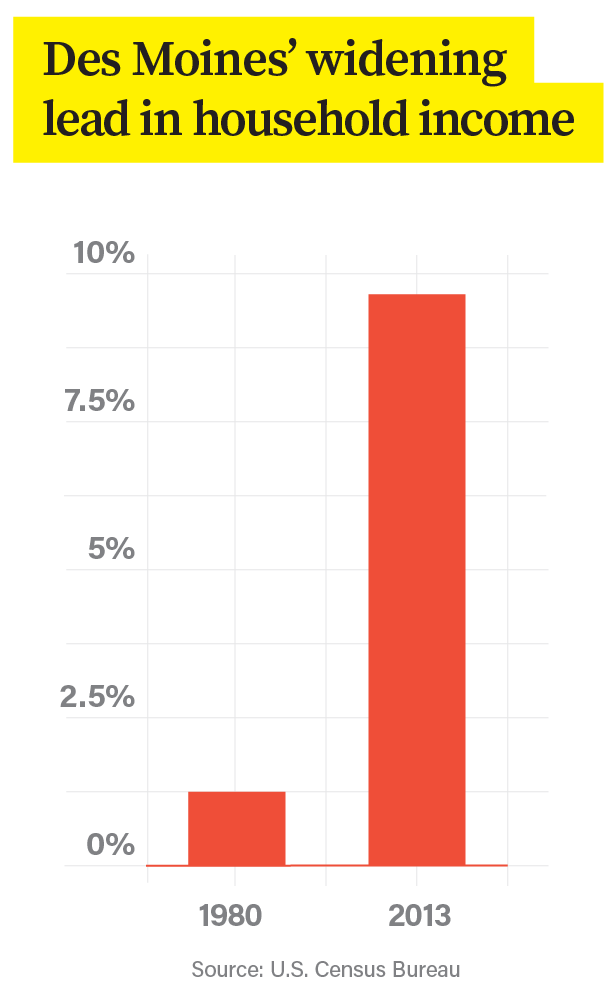 That success has led to a revitalized downtown, with millennials pouring into the city at a higher-than-average rate. The art, restaurant and entertainment scenes have also flourished in the city's rebirth.
Cities like Des Moines are actively recruiting from the likes of Wichita, dipping into the city's flow of young talent, which businesses will often follow. Unless Wichita can compete with the likes of Des Moines, Omaha and even Kansas City, these cities will take more and more of Wichita's businesses, leading to even tougher economic times.
Diversifying the economy
Aviation has brought many high-paying jobs and a lot of value to the region over the years. Wichita has felt the sector's influence, for better and worse, in the dramatic boom and bust cycles the city has experienced.
ABOVE: Des Moines has maintained an edge over Wichita in household income since the 1980s. That lead has only widened since.
---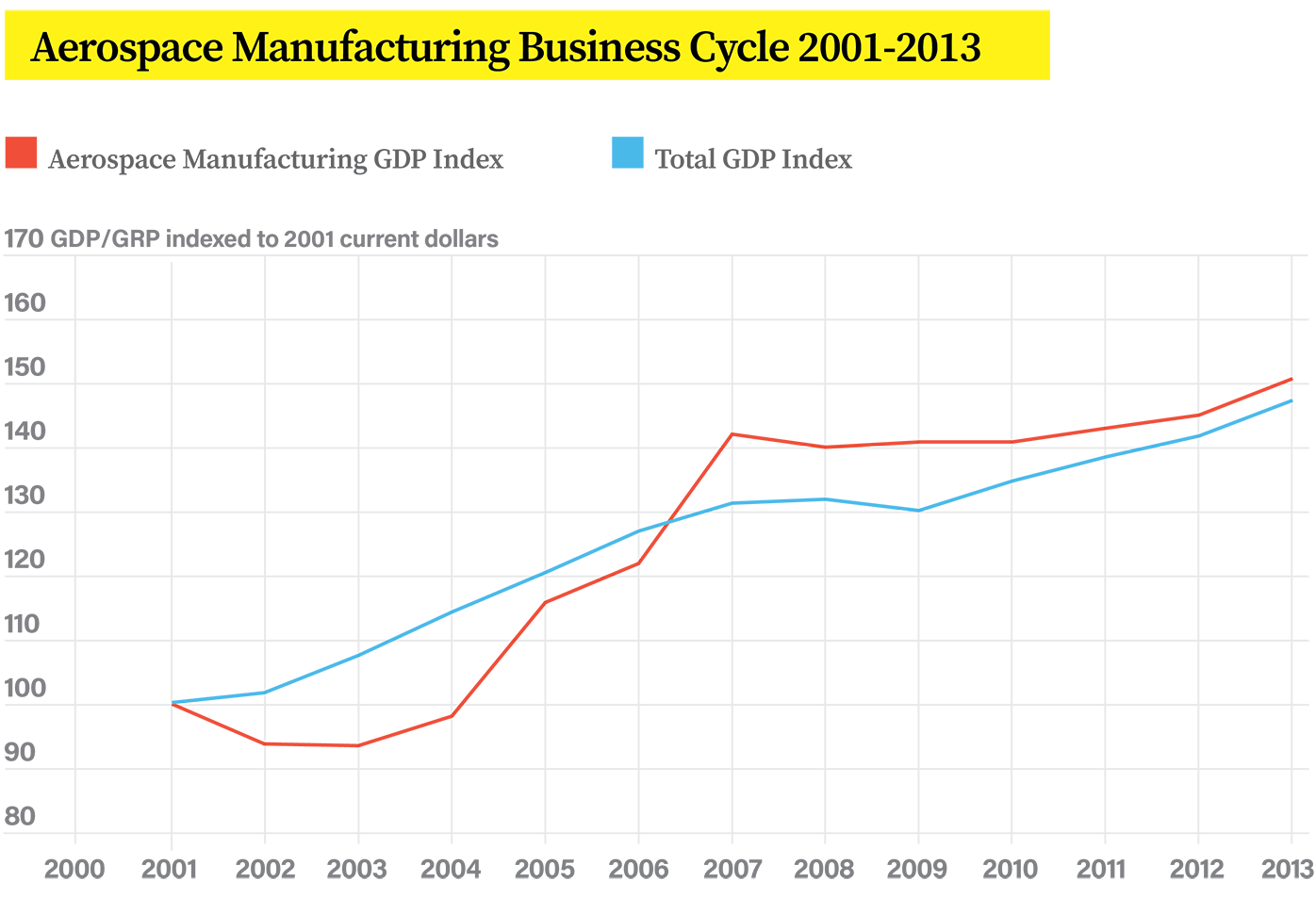 The upswings in aviation are powerful and bring along with them significant value for the region. But when that growth cycle ends, the losses can also be significant.
---
To help balance out the volatility of the aerospace market, Chung, in his 2015 report, emphasizes growing steadier sectors in the Wichita economy.
"Wichita is heavily invested — it has one of the highest ratios — in manufacturing," he says in his report. "What we find is that basically it's an industry that is harder and harder over time to crank out job growth or even maintain jobs."
To describe performance and volatility, Chung uses investing terms "alpha" and "beta." Alpha is essentially a sector's ability to outperform the rest of the market once risk is factored. Beta is essentially the volatility of the sector. A "good" sector would have a high alpha and a low beta.
Aviation manufacturing has always been volatile, or high beta. Production depends heavily on which stage the global economy is in.
Chung points out that emphasizing a low-beta sector like health care, which already has a big presence in Wichita, could balance out that volatility. Health care is far less susceptible to economic ups and downs, contributing to a low beta.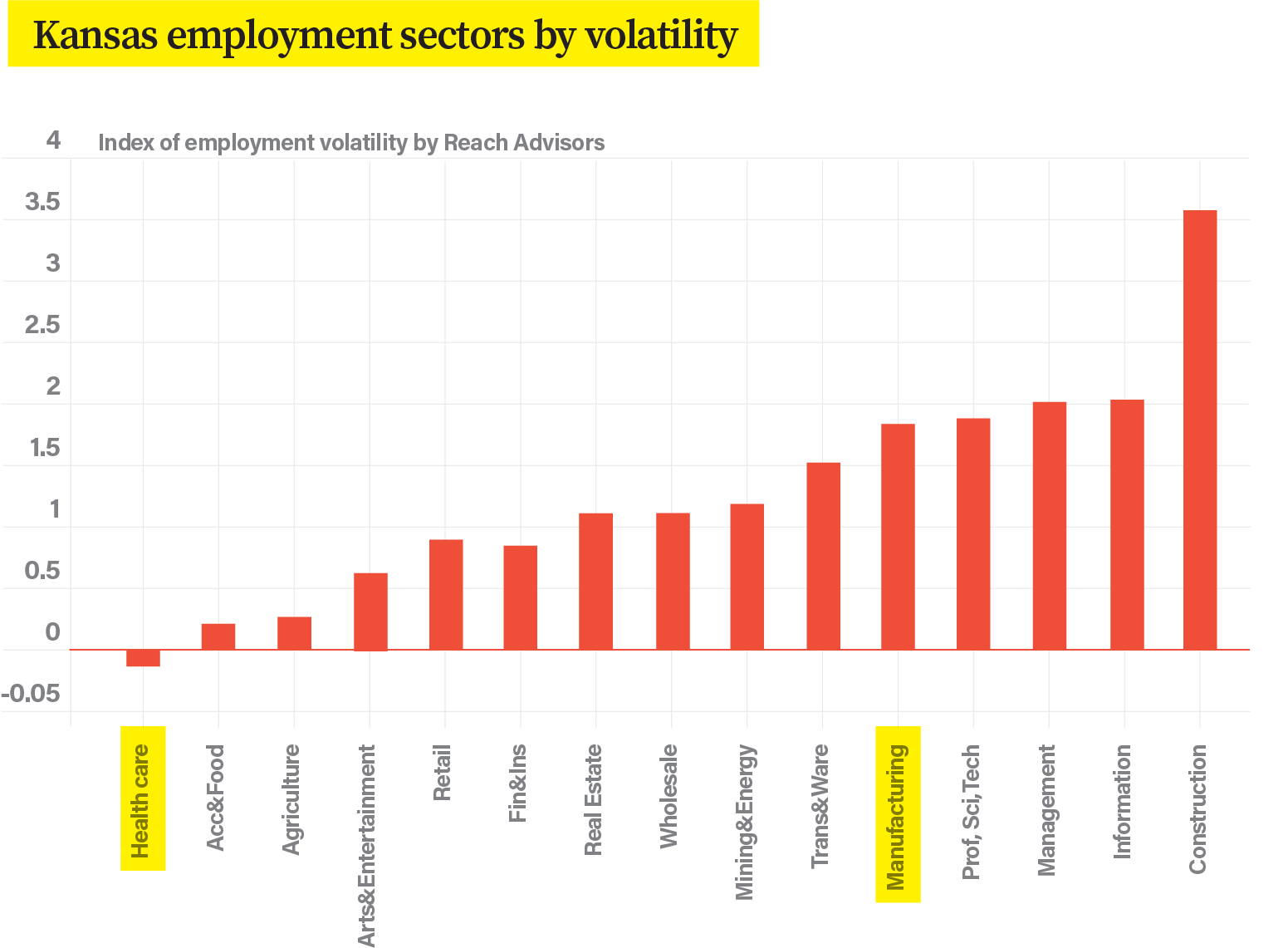 Health care is the least volatile sector on the chart. Manufacturing, on the other hand, ranks high along with other sectors tied to aviation in Wichita.
---
In 1980, aerospace manufacturing outperformed other markets in production levels and employment, meaning it had a high alpha. While production levels have stayed fairly steady over the decades, new technology has allowed the industry to do more with fewer workers. "It takes fewer bodies to produce a fuselage than it did 20 years ago," Chung says. Now, aerospace manufacturing is low alpha when it comes to employment.
But the aging of the Baby Boomer generation has actually caused health care to perform better while the rest of the economy is in decline, Chung said, making it the highest charted alpha. People are no more, or less, likely to get sick when the economy is in recession.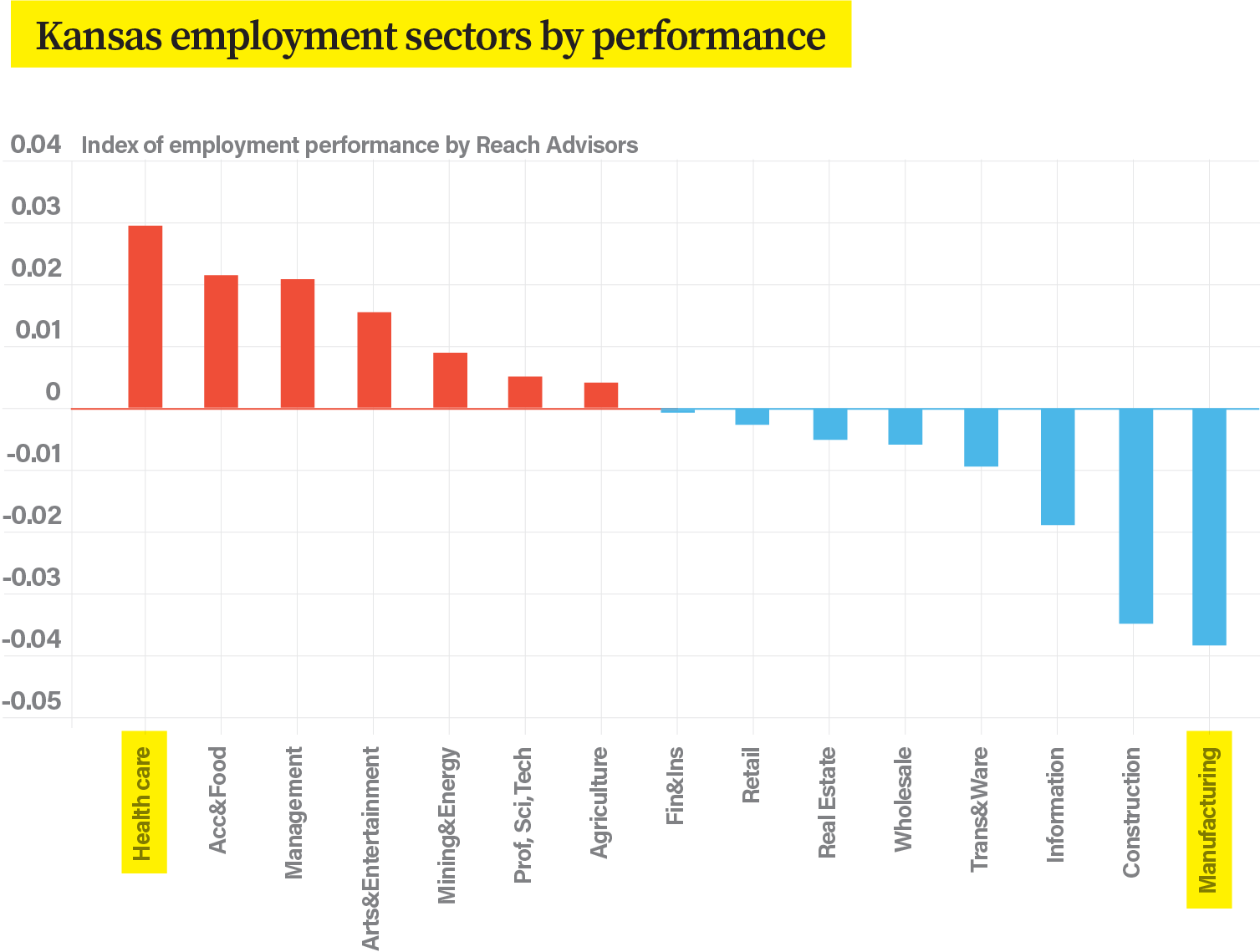 The sectors on the far left are stronger than manufacturing, which is actually the lowest-performing sector on the chart. The highest performer, again, is health care.
---
The big picture
Changing a city's business cycle is an intimidating proposition. Chung's report points out four challenges he sees as critical to breaking Wichita's current downward trends. The business cycle challenge is only one.
Entrepreneurship, human capital and perception also need to be considered. None of these ideas stand alone. Each is interconnected and vitally important for Wichita to make an about-face.
It may seem like an uphill battle to catch up to the likes of Des Moines or Omaha, but Chung says it's not impossible — only difficult.
It's not going to reverse itself automatically. It's going to take directed action.James Chung
That directed action has already begun as Wichita residents and business leaders have stepped up for change. The Greater Wichita Partnership, the e2e Accelerator, The Wichita Area Technical College's Wichita Promise, Cargill and Wichita State University's Innovation Campus are all great examples. But it's going to take a united front determined to do the hard things necessary to get our city turned around.
We need practical, real-world moves to address our weaknesses, take advantage of our strengths and create new strategies focused on growing and attracting businesses.
NEXT STEPS:
---
---
---
---