It's time to stop hoping for change. We can create it. For the month of October, we invite you to make a pledge to Wichita.
HELP CREATE A CRITICAL MASS
Wichita has come a long way since 2015, when Reach Advisors analyst James Chung gave his first Focus Forward presentation. We've opened up startup incubators, breweries, higher education programs and community initiatives.
Here at The Chung Report, we've written scores of articles, conducted hundreds of interviews and brought dozens of perspectives to light to keep James's original ideas flowing through our city.
But even after all this, James Chung's latest presentation made it clear we're still in a race for our lives — fighting against the fall of our city.
We may have made some progress, but other cities have accelerated theirs. Catching up will take nothing less than radical effort from a critical mass of Wichitans.
MORE THAN A SILVER BULLET
On each of James's visits, Wichitans have asked for a silver bullet — a unilateral solution that can fix all of Wichita's systemic problems.
But that doesn't exist, and even if it did, it would be our job as Wichitans to find it.
Instead of finding one solution for all of our problems, we need to find one mindset that can create several solutions. It's about creating the momentum for change.
That being said, there are two ways we can push for this changing mindset:
1. Continue to spread the reality of our current situation and serious consequences that could come about if we do nothing.
2. Help activate the people who have heard all of this before but have not changed anything within their sphere of influence.
If we can spread the word and get people to take action, we might have a chance to reverse Wichita's negative trends and compete with our peer cities.
WHAT ELSE CAN BE DONE?
This is the single most valuable question we can all ask ourselves and each other. It's the question that will create progress, get rid of bad habits and continue to spark change and progress in perpetuity.
It's also the question that gave Janelle King, owner and founder of The Workroom, an idea to use the Wichita flag, a universal symbol of civic pride, as a lever for action.
King came to The Chung Report to help her create Blackout ICT, which for one month would black out the Wichita flag across Wichita as a symbol of our commitment to making this city better. We believe the flag should stand for something deeper: Sacrifice, tenacity, service and a spirit that never surrenders or settles.
All it takes to earn your flag is your commitment — a pledge of action.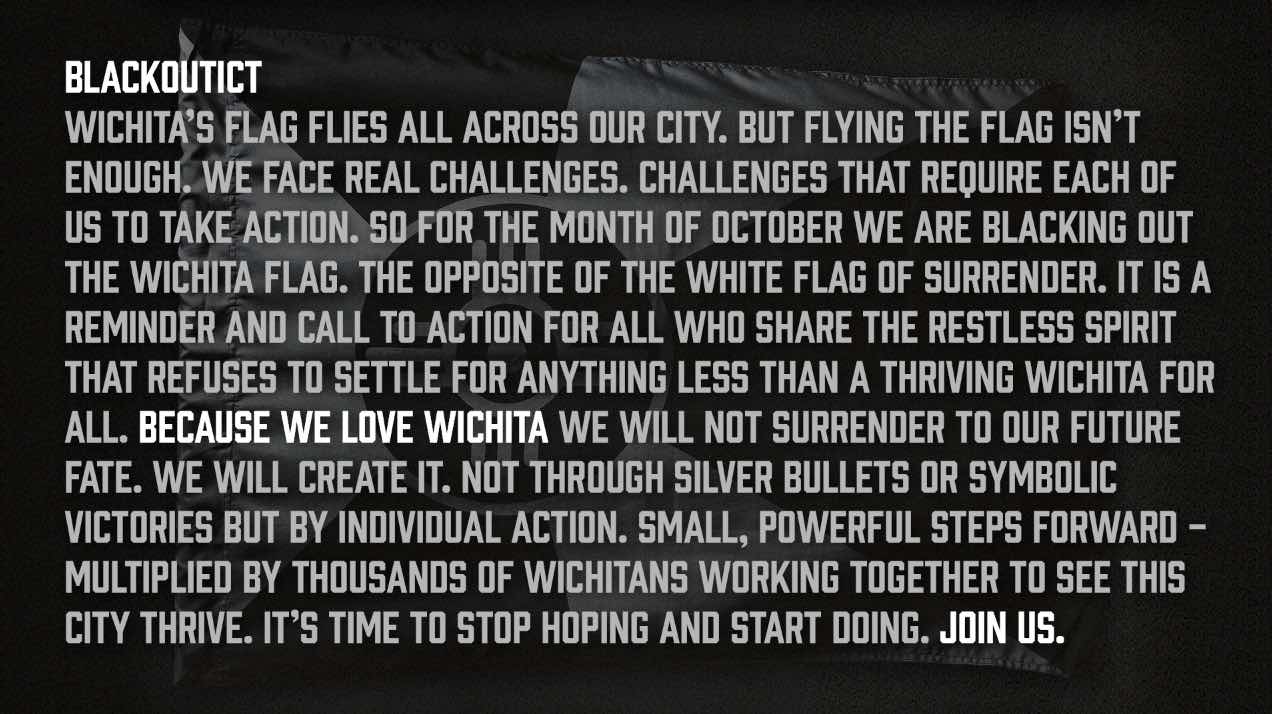 Blackout ICT officially kicks off tonight at the Final Friday event at The Workroom. There, you can learn more about the movement and what some of your fellow Wichitans are pledging to help move our city forward.
We want pledges to reflect the idea that every Wichitan is called to make an impact with their unique abilities, passions and ideas. Make it direct, actionable, challenging and achievable — but never small.
Some of you may already be pulling your weight to move this city forward. Still, we challenge you to ask yourself the simple question: What else can be done?
Starting on October 1, you can turn in your pledge to earn your flag. Replace your original Wichita flag with the Blackout ICT flag to represent your commitment to moving this city forward.
In the meantime, visit the site, share it with anyone who loves Wichita and start thinking about what you can do to make this city's future brighter.
We look forward to seeing your black flags waving across the city as a symbol of your commitment to creating change.
— The Chung Report Team
NEXT STEPS:
---
---
---
---