In the past decade, technology has become more engrained in our lives than ever before. What are we doing to ensure we don't fall behind?
HOW DO CITIES ATTRACT TECH?
In the past decade, technology has become more engrained in our lives than ever before. It's nearly impossible for most people to be productive without the use of advanced technology — laptops, software, smartphones, Wi-Fi. They're all vitally important for every company and individual.

"Short of mowing a lawn for somebody, there's nothing you're going to do today that's not going to incorporate technology," says Mike Mayta, CIO for the City of Wichita. "Everything you do touches technology, and that's not going to change."
Research analyst James Chung listed technology, along with healthcare, as one of the sectors Wichita must foster to create a more successful economy. But Mayta says the city could do more to support and attract not only technology companies, but also companies and individuals who use technology, which, let's face it, is pretty much all of them.
So if technology is so vital to the future of our economy, what are we doing to ensure we don't fall behind? And how does broadband, or high-speed internet, act as a measure of progress?
WHAT IS BROADBAND?
Put simply, broadband is fast internet. The federal definition of "fast" is currently 25Mbps (Megabits per second) download speed and 3Mbps upload speed. While most high-speed internet packages would easily meet this definition, some cities have done better at making broadband available than others.
Chattanooga, Kansas City (KS and MO) and Lafayette top the U.S. in making internet fast and affordable for businesses and residents. Los Angeles, New York and Washington, D.C. have fast internet, but at a steeper price point. Outside the U.S., Seoul, Hong Kong and Tokyo are leaders in speed and affordability.
While Wichita's speeds are more or less up to snuff — Cox has a fiber connection with speeds up to 1Gbps (Gigabits per second, or 1,000 Megabits per second) — the coverage and cost can make it out of reach for many businesses and most residents. According to BroadbandNow.com, Cox's 1Gbps service covers 10.3 percent of the city for residents and 58.9 percent for businesses.
While there are many ways to get broadband — DSL, satellite and wireless, just to name a few — fiber stands out as the clear winner when it comes to speed and reliability.
Fiber optic cables consist of thin fibers with a glass core, which can carry signals in the form of light. Fiber allows signals to travel farther with less loss of strength, making it the ideal connector for businesses, government and residents who want a flawless connection.
Access to fiber, like access to highways, water, electricity and workforce, can play a role in whether or not a company decides to move to a city, says Tony Russell, director of business development and member services for the Kansas Fiber Network, which, along with AT&T, Cox and CenturyLink, provide fiber connections for businesses across the state.

"If [a company moves] to this area and they happen to pick a spot five miles from fiber, that's an expensive project to build five miles of fiber for one customer," he says. "I think, like anything, if we have the infrastructure, we'll attract those businesses or they might even be developed."
But Russell says it's also about retaining the technology we have currently. We have to keep up with other cities that are actively competing for companies and workers.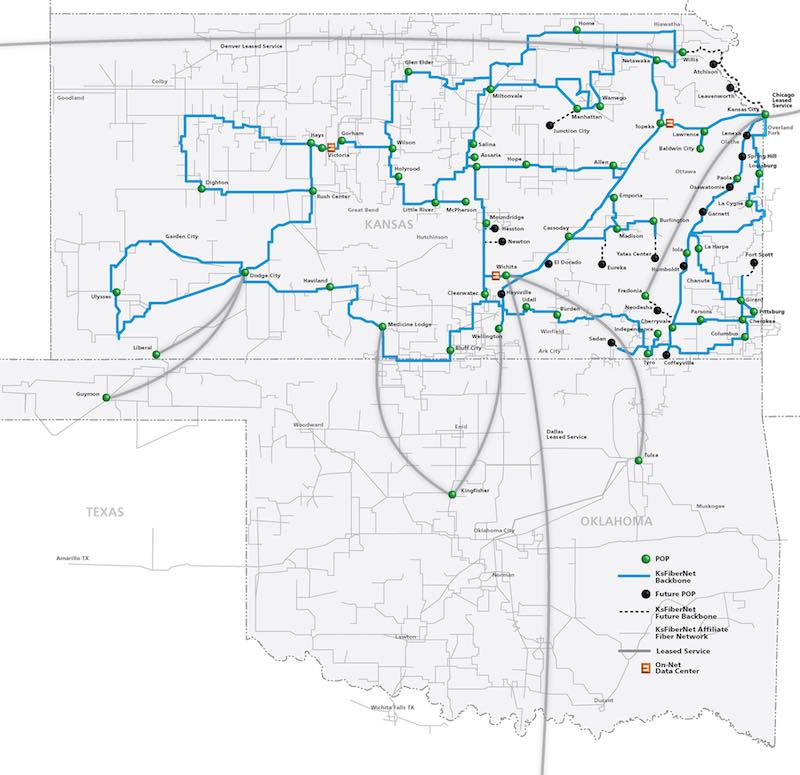 Kansas Fiber Network provides fiber backbone service for most of the state, linking with leased service in Oklahoma, Colorado, Missouri and Texas.
"Keeping what you have is at least as important," he says. "It doesn't work if they're coming in the front door and going out the back door."
While other factors are also important, Mayta says having an affordable fiber network is a bare necessity for tech companies to consider a city.
"If we just light up the city of Wichita with fiber, does that mean tech is going to come here? No, not necessarily," he says. "But if we don't, I can guarantee you that they won't come here. So you at least give yourself the opportunity."
WHAT ARE OTHER CITIES DOING?
Speaking of those other cities eager to compete with Wichita for its workers and companies, some are seeking out interesting solutions to increasing their standing for these companies and employees.
Kansas City served as an early experiment for Google Fiber, which largely paid off for the city by putting pressure on the market to provide better, more affordable fiber options for residents and businesses alike.
Affordability is key, says Mayta.
"Just because you have availability of something, if it's not priced at a point where it's affordable, you might as well not have it," he says. "To me, that means it's really not available."
Another strategy to bettering the overall quality of broadband in a city is to attract internet service providers (ISPs) and content providers like Netflix, Facebook or Apple.
Kansas City is also succeeding on this front. The 1102 Grand building serves as a carrier hotel, or central data infrastructure that is shared between ISPs and content providers, which have a presence in the center.

"Think of these facilities as an on and off ramp for the internet," says Greg Elliott, director of business development at LightEdge Solutions in Kansas City. Previously, Elliott worked at the 1102 Grand carrier hotel. "The carrier hotel has helped accelerate the attraction and growth of businesses in the region."
With access to network neutral connections, ISPs and content providers can locate closer to their end users, making it cheaper and faster for the everyday resident. For example, if Netflix had a presence in Wichita, chances are you'd see improvements in your service.
"What if there was a mini version of an 1102 Grand in this market?" Russell says. "The quality is going to go up, and the prices will probably go down."
Another city making big moves in the way of broadband — particularly fiber — is Lawrence. The city created an expansive fiber network by connecting city infrastructure, including street lights, the water treatment center and city buildings. But, now that this network is in place, companies like the Kansas Fiber Network can lease fiber to connect to new or existing businesses, further expanding the network while serving businesses.
Russell says a similar arrangement could be used to provide service in the residential market if the City of Lawrence could partner with a residential provider.
HOW CAN WICHITA COMPETE?
While the Kansas Fiber Network can lease fiber from the City of Lawrence, it doesn't receive quite the same treatment from Wichita, which Russell says tends to favor the incumbent providers, Cox and AT&T, when allowing permits to lay down fiber.
"There's a lot of fiber in this town," he says. "But it's also about having the environment that clears that path for folks to serve customers affordably and efficiently."
Mayta recognizes the pressure that is on Wichita, with an increasingly competitive market pushing the city to make improvements before it falls too far behind.
In an attempt to keep up while looking for innovative solutions, Mayta and his team have been testing technologies ranging from trash can sensors that can notify workers when they're full to interactive kiosks that could help visitors with directions downtown.
"There are a lot of opportunities here. We just have to be willing to take chances and try it," he says. "We can't do this at the pace that we normally go in this area of the country. It's too slow. We're getting beat by Omaha, Des Moines — a lot of these cities that were our size or are our size — they're doing the right things to move the needle."
As far as fiber, Mayta says they're experimenting with a technique called microtrenching, which allows workers to quickly lay fiber between the curb and the road. With the age of automated vehicles and high-definition police cameras just around the corner, Mayta says it's time for Wichita to act.
"As a community, we have to think about what this has to look like," he says.
Creating an environment conducive to technology will only improve our outlook for the future, especially in the world of business, which is increasingly reliant on broadband for even the most basic of operations.
By creating a place where technology is embraced rather than feared, we can attract the workers needed to feed our IT sector — and possibly attract and grow new businesses that will continue the momentum.
In order to compete with our peer cities, which are already making big moves in technology, we have to jump on new opportunities to quickly innovate and create advantages that attract new businesses, foster new workers and inspire ideas worth pursuing.
NEXT STEPS:
---
---
---
---