Wichita turns 150 this month. We're going through history to discover the unique wins and losses that turned us into the city we are today.
HOW WICHITA BECAME WICHITA
History isn't just about the past. It's about the present, which is formed from events and people throughout history. If we can understand how past events created today, perhaps we can start to understand how today is shaping our future.
Wichita turns 150 this month and there's a lot to unpack in the century and a half since its founding. But viewing our story as a whole can help us uncover Wichita's identity — our unique wins and losses that turned us into the city we are today.
Here's a breakdown of some of the events that shaped Wichita over the past 150 years:
Pre-Wichita - 1854-1870
To best understand Wichita's history, we have to start before its incorporation in 1870.
It started with the establishment of the Kansas Territory, whose subsequent entrance into the Union as a free state eventually led the nation into Civil War. At this time, Wichita was little more than a trading post, where hunters and trappers could transport and sell their wares.
James R. Mead was making his name as a Wichita founder, trading with local tribes and fellow pioneers. Similarly, famed explorer and pioneer Jesse Chisholm — who eventually settled in the area that would eventually become Wichita — was scouting what would become the Chisholm Trail.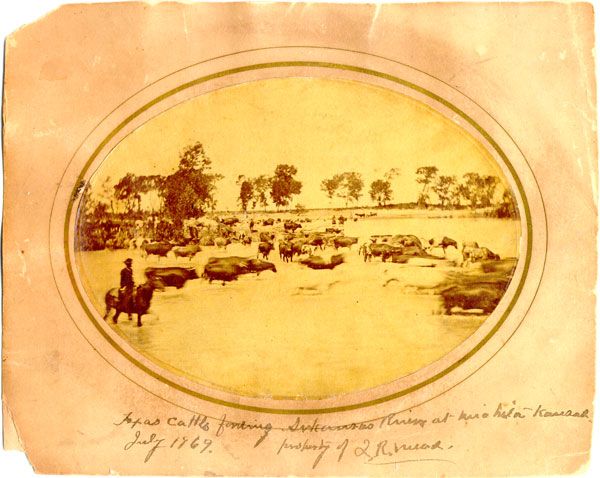 Cattle cross the Arkansas River near what is now Wichita. PHOTO CREDIT: WICHITA PHOTO ARCHIVE
"Hunters and traders were the first white men to venture into south-central Kansas, says Jami Frazier Tracy, curator of collections at the Wichita-Sedgwick County Historical Museum. "They routinely hunted buffalo, antelope, deer, elk, squirrels, beaver, otter, wolves, coyotes, foxes, skunks, porcupines, raccoons, turkeys, quail, prairie chickens, ducks, geese, and swans. Hunting and trading were the first industries in the Wichita area."
When the Civil War ended, the Wichita area became much more than a trading post.
"The national attention returned back to westward expansion," says Eric Cale, executive director of the Wichita-Sedgwick County Historical Society. "And we were the new town, furthest West. We offered an answer to a lot of people's dreams."
The Wichita area became a magnet for post-war immigrants seeking opportunity. Because Kansas joined as a free state, the area represented a haven for African-Americans and those not welcomed in the Confederate South or the old-world East.
"Ultimately, we became the consummate western boom town," Cale says.
Wichita's early pioneers set a tone that our city still resonates with today. Seeking out opportunity, and taking risks on new ideas has shaped our city since the beginning.
TIMELINE:
1854 - Kansas opens for settlement, setting up conflict over slavery that would eventually lead to Civil War
1854-1861 - Bleeding Kansas border dispute, ending with Kansas joining the Union as a free state in 1861
1859 - Trader and plainsman James R. Mead arrives in Kansas at the age of 23
1861 - Civil War begins
1860s-1870s - Chisholm Trail, established by Jesse Chisholm, transports herds of cattle from Texas to Kansas Territory
1865 - Civil War ends, leading to an influx of immigrants, veterans and African-Americans seeking opportunity in Wichita
1870 - After several attempts, Wichita and Sedgwick County are officially incorporated
The Early Days - 1871-1910
Wichita's boom wasn't totally organic. Shrewd businessmen hoping to profit off a growing city hyped Wichita to boost the city's reputation, along with its commerce and population.
The legend of the four horsemen — Mead among them — riding out to reroute a Texas cattle drive back to Wichita came to represent the efforts taken to ensure Wichita's early success. This event is depicted in a mural at the Fidelity Bank Carnegie Library.
Another early promoter was Marshall Murdock, founder of the Wichita Eagle newspaper.
"He and others came up with slogans to promote the community that, if you read them, you'd find them laughable," Tracy says. "Some of it was hyperbole, some of it was extremely questionable and some of it was accurate, but it was all an effort to bring primarily businesses to Wichita."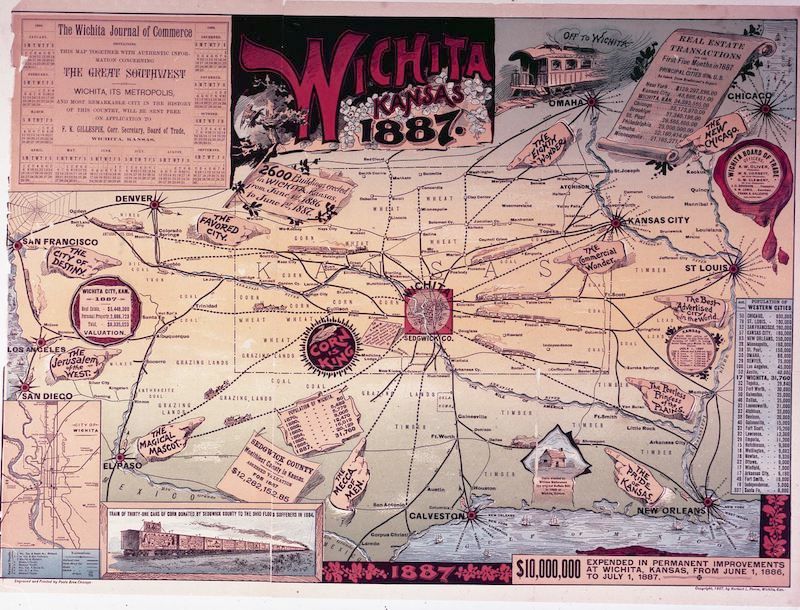 An 1887 map promoting the "Eighth Wonder," "The Mecca of Men," "The City of Destiny," Wichita, Kansas. PHOTO CREDIT: THE WICHITA-SEDGWICK COUNTY HISTORICAL MUSEUM
Wichita's early founders believed that if you could attract commerce, then families, culture and stability would follow. This approach attracted entrepreneurs and those seeking opportunity in business.
Early on, the primary business was cattle. Wichita was a prominent point — and later an end point — on the Chisholm Trail. While business leaders appreciated the wealth the cattle industry provided, with it also came with a less-than-desirable reputation.
"Wichita has somewhat of a strange relationship with the cattle drive era," Tracy says. "On the business side, the city leaders welcomed that activity because it brought money into town. But people who were living in the town didn't necessarily like it because it brought, in some ways, an unsavory element."
Being a rough-and-tumble cowtown wasn't necessarily good for the city's image. While many romanticize the age of cowboys and outlaws, at the time, it was violent, unruly and, in the end, bad for non-cattle business.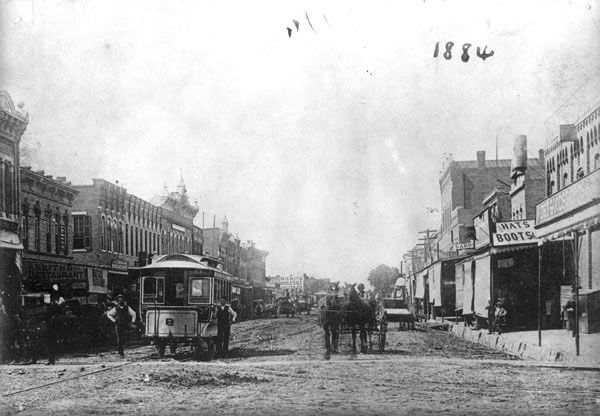 Main Street Wichita, taken in 1884. PHOTO CREDIT: WICHITA PHOTO ARCHIVE
"They tried to kind of bury that fact," Tracy says. "They wanted to be seen as a community that was Victorian and was more sophisticated than the rough cowboy."
In the end, Wichita's cattle era disappeared on its own — partly because of a quarantine, and partly because of a new railway. In the end, Wichita's cattle era lasted only a few years. Following this, Wichita saw a population boom unrivaled across the U.S.
"For a brief moment in time, we were the fastest-growing city in the United States," Tracy says. But many, including Murdock himself saw the boom as unsustainable. And he was right. "By 1889, Wichita was beginning to experience a depression, which was exasperated by this huge real estate boom."
But even after the slowdown, Wichita continued to attract people, culture and commerce from around the world. At the turn of the century, Lebanese and Mexican immigrants began coming to Wichita en masse, bringing with them culture and cuisine that is still with us today.
At the turn of the century, Wichita's entrepreneurial spirit was also beginning to show itself. William Coffin Coleman, founder of the Coleman Lamp and Stove Company, moved to Wichita in 1901 and would go on to serve as the city's mayor in 1923.
In 1905, Coleman proved his company's abilities by lighting the first nighttime football game west of the Mississippi. It was Cooper Memorial College — now called Sterling College — against Fairmount — now called Wichita State University.
TIMELINE:
1872 - Marshall Murdock moved to Wichita and founded the Wichita Eagle newspaper, starting an age of promotion and sloganeering
1872-1877 - The Cattle Era
1880s - Wichita becomes the fastest-growing city in the U.S.
1890s - Wichita sees an influx of Lebanese immigrants
1895 - Fairmount College founded at what would become Wichita State University's main campus
1900 - Carry Nation protests prohibition, hatchet in hand
1901 - William Coffin Coleman moves to Wichita and starts the Coleman Lamp and Stove Company
1905 - Cooper Memorial College plays Fairmount College (Wichita State University) in the first night football game west of the Mississippi. Final score was 24-0, Fairmount.
1910s - Wichita sees an influx of Mexican immigrants
The Age of Aviation - 1911-1950
Wichita has played a role in aviation ever since it captured the American imagination. But it wasn't until the oil boom of the early 1900s that it had the fuel it needed to really take off.
Investors like J.M. "Jake" Moellendick funded the start of Swallow Airplane, which created America's first mass-produced commercial aircraft and gave career starts to Walter Beech and Lloyd Stearman — names we all know today.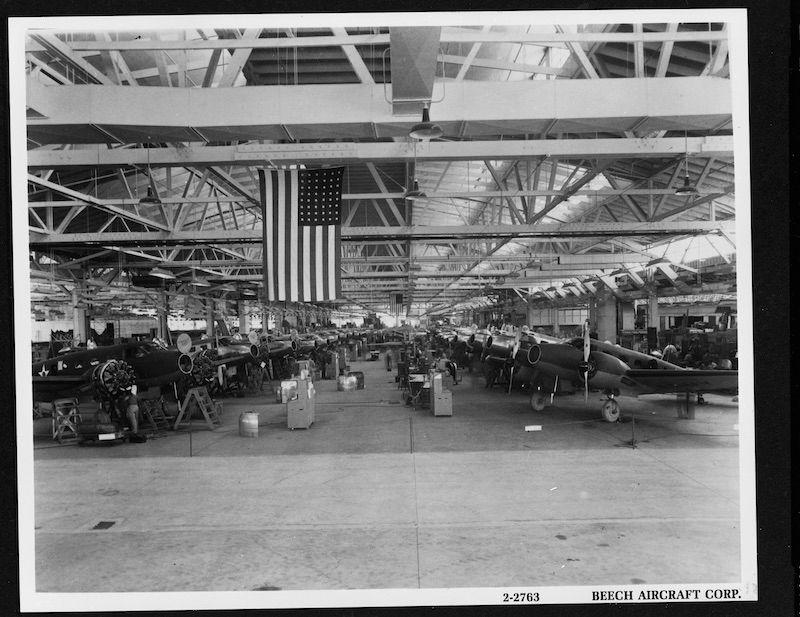 Early production at a Beechcraft plant. PHOTO CREDIT: THE WICHITA-SEDGWICK COUNTY HISTORICAL MUSEUM
Cale says Wichita's aviation history is really no different than any other part of Wichita's story. It was simply about saying yes to the next opportunity.
"Our history is kind of a chain of events that was precipitated by people who had to take advantage of adversity," he says. "We're drawn to the unknown in a way."
Wichita's obsession with aviation continued into the 1920s and led to countless manufacturers and flight schools. In 1927, Wichita was named "Air Capital of the World," a moniker we still hold today. But the Great Depression ravaged economies around the world starting in 1929.
"Aviation was impacted," Tracy says. "At one point I think Cessna had $5 in its bank account."
Aviation was saved by World War II. Starting in 1939, Wichita once again became a boom town, nearly doubling its population as people came from around the state and country to produce planes for the war effort.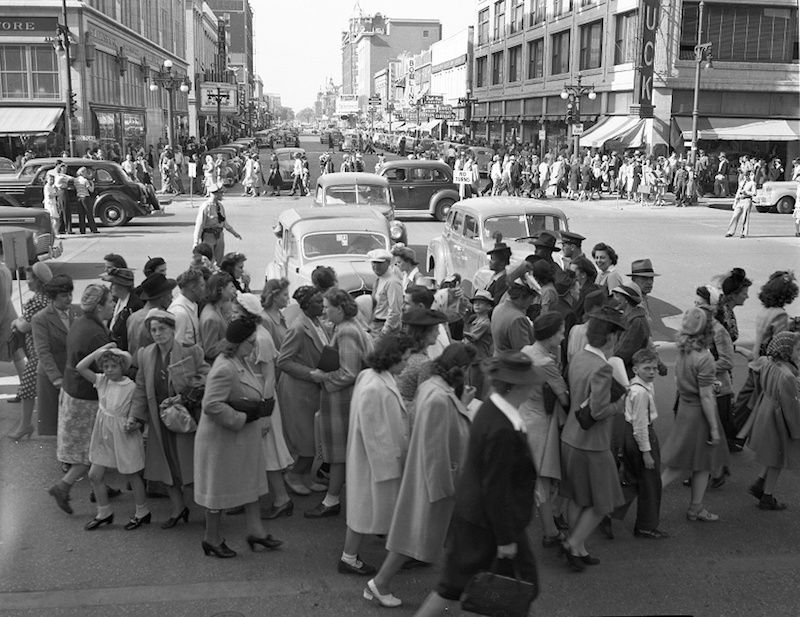 A bustling Douglas Avenue in 1943. PHOTO CREDIT: THE WICHITA-SEDGWICK COUNTY HISTORICAL MUSEUM
Round-the-clock production made Wichita a round-the-clock city, with a bustling downtown and an even busier airport. All-in-all, Culver, Beech, Cessna and Boeing combined to deliver nearly 30,000 planes during World War II, giving Wichita a unique opportunity to make its mark on world history.
TIMELINE:
1911 - First airplane flown in Wichita during the Walnut Grove Air Meet
1914-1918 - World War I
1914-1921 - The Jones Automobile Company produces vehicles in Wichita
1918 - Oil development leads to an oil boom in the Wichita region, providing funds that would go on to fuel ventures in aviation
1919 - J.M. "Jake" Moellendick, who made his fortune in oil, partnered with E.M. "Matty" Laird to form what would become Swallow Airplane, which produced America's first mass-produced commercial aircraft — the Laird Swallow
1921 - White Castle begins the national obsession with Fast Food, and signifies entrepreneurial promise in Wichita
1922 - The Orpheum Theatre opens and would go on to host films and jazz-age legends including Louis Armstrong and Ella Fitzgerald
1925 - Fred C. Koch enters the Wichita energy industry, founding Winkler-Koch Engineering Company, the precursor to Koch Industries
1925 - Walter Beech and Lloyd Stearman — former employees of E.M. Laird Airplane Company — partner with Clyde Cessna to form Travel Air
1927 - Clyde Cessna launches his own aviation company — Cessna Aircraft Co.
1927 - Lloyd Stearman launches Stearman Aircraft Co.
1927 - Walter Beech forms Beech Aviation Co., which would later become Textron Aviation
1927 - Wichita earns the moniker "Air Capital of the World"
1929 - Stock Market crash sparks the Great Depression, drastically slowing aviation production
1932 - Musician Gage Brewer introduces the electric guitar to the world from a Wichita stage
1934 - Lawrence Stadium, which would become Lawrence-Dumont, is built
1937 - Wichita flag adopted
1939 - Stearman Aircraft becomes Boeing Wichita, which would later sell the Stearman facilities to Onex to form Spirit AeroSystems
1939 - Responding to war in Europe, Congress approves a $300 million order for 50,000 aircraft, many to be built by Boeing, Beech and Cessna in Wichita.
1941 - United States enters World War II, sharply increasing demand for Boeing planes built in Wichita
1944 - Wichita Municipal Airport becomes one of the busiest in the U.S. with a takeoff or landing approximately every 90 seconds
1939-1951 - Round-the-clock aviation production brings thousands of workers to Wichita, nearly doubling population
Entrepreneurs & Activists - 1951-1980
For Wichita — and, really, the rest of the country — the end of World War II signified the beginnings of quieter times. It was the rise of the suburbs, the return of veterans who, for the first time, are able to purchase homes. It was the rise of prosperity.
"Suburbs were being built like crazy," Tracy says. "And at this point, you start seeing the decline of the downtown."
For Wichita, much of the post-war era seemed to represent an effort to find the spark that made Wichita great in the pre-war era. This often meant making opportunities out of nothing.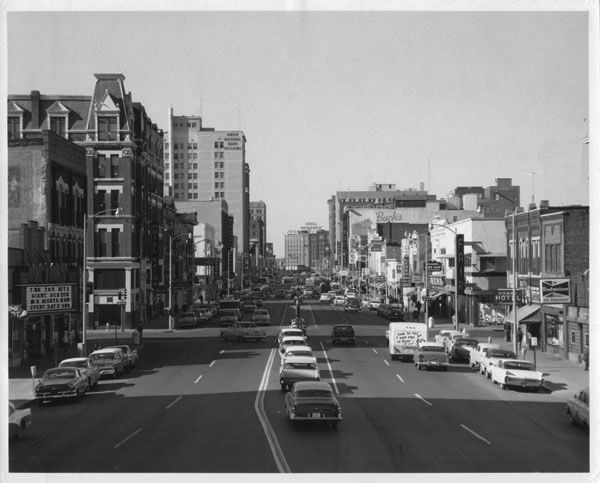 Downtown Wichita in 1960. PHOTO CREDIT: WICHITA PHOTO ARCHIVE
"Business has driven us like no other force," Cale says. "Business is behind everything, because we've had to really work just to stay here and it's the largest city in Kansas now. ... That hasn't been generated by much more than the spirit of entrepreneurship and an ability to create a business where we are."
Post-war entrepreneurship included Pizza Hut, Rent-A-Center and Learjet — companies that made impact on a national scale.
But Wichita was also looking to celebrate a heritage it once tried to bury. As Western films became popular, Wichita leaned into its beginnings as a cowtown. Old Cowtown Museum was built in 1952.
But while the city was looking back, it was also looking forward.
"You also see a rise in civil rights," Tracy says. "Guys who fought in World War II and Korea came back to their communities and couldn't buy a house in the neighborhood they wanted because of redlining, or couldn't get a job at the place where they wanted, or couldn't eat where they wanted because they didn't serve African-Americans."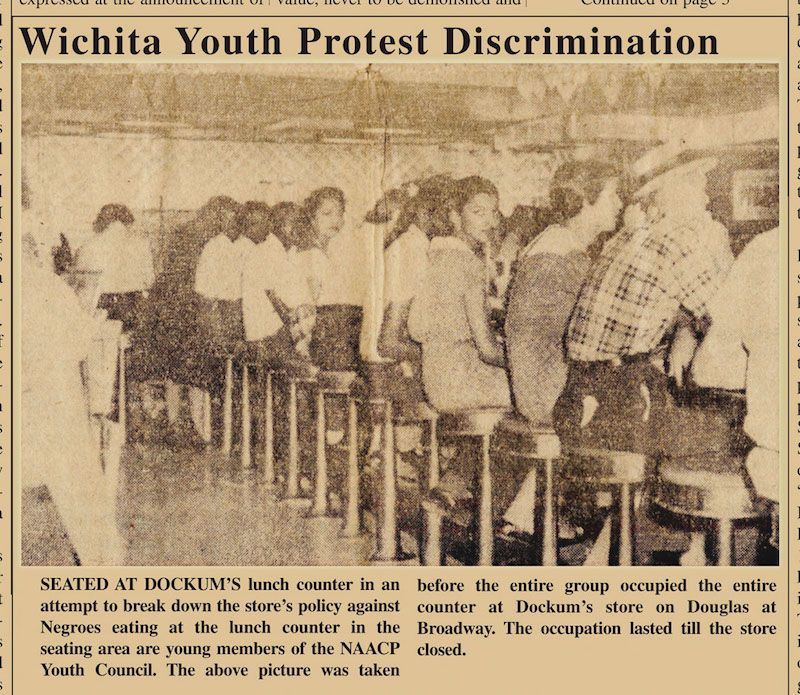 The Dockum sit-in, August 7, 1958. PHOTO CREDIT: THE WICHITA-SEDGWICK COUNTY HISTORICAL MUSEUM
After Board v. Education dismantled legal segregation, the fight for civil rights spread across the country. And the first successful sit-in for desegregation happened in 1958, at the Dockum Drugstore in downtown Wichita.
Change continued with downtown revitalization. Century II was a bold new entry into the Wichita downtown, and the Keeper of the Plains becomes a symbol of Wichita's spirit.
And immigration from south-east Asia added more diversity, as Wichita became a city of the modern world.
TIMELINE:
1950s - Rise of the suburbs: smaller towns including Park City, Haysville, Andover and Derby begin to grow and incorporate
1950-1953 - Korean War
1952 - Old Cowtown established as a historical museum dedicated to Wichita's cowtown legacy
1953 - Kansan Dwight D. Eisenhower becomes U.S. President.
1954 - After Brown v. Board of Education dismantled legal segregation, the fight for civil rights spread across the country. And the first successful sit-in for desegregation happened in 1958, at the Dockum Drugstore in downtown Wichita.
1955-1975 - Vietnam War
1958 - Nation's first successful desegregation sit-in at the Dockum Drugstore in downtown Wichita
1958 - Wichita State University students Dan and Frank Carney open the first Pizza Hut location
1962 - Dan and Robin Foley contribute to Wichita's fast-food legacy with Taco Tico
1963 - Bill Lear brings production of the Lear Jet to Wichita, creating the business jet category and continuing a legacy of Wichita aviation entrepreneurship
1964 - Wichita State University becomes an accredited state institution
1969 - U.S. becomes the first country to land astronauts on the moon
1969 - Century II opens as Wichita's performing arts and convention center
1973 - Tom Devlin and W. Frank Barton start Rent-A-Center
1974 - Kiowa-Comanche artist Blackbear Bosin completes the 44-foot Keeper of the Plains at the confluence of the Arkansas and Little Arkansas rivers near downtown
1977 - Wichita sees a surge in immigration from South-East Asia
Inherited Spirit - 1981-2020
History has a way of providing clarity with time. Looking back 50 years seems a lot easier than looking back 20. We have context. We have a better picture of cause and effect. And we have enough distance to be honest with ourselves.
That being said, Wichita's modern era is a direct manifestation of its past. Entrepreneurship continues to dominate our city's consciousness, and aviation is still a huge factor in our economy.
"We are a community built from entrepreneurs," Tracy says. "We've continued that tradition for 150 years. Even the earliest hunters and traders that were here before Wichita became a town — they were entrepreneurs. So that's really become a driving force for the community."
But by the '80s, large-scale ventures grew scarce. And the downtown forsaken in the '50s had fallen into disarray.
Much of the modern era seems to be focused on getting back what Wichita once had, while keeping up with the cities around us. Downtown revitalization saw new buildings built and old buildings torn down or transformed. In 1987 Wichita got its most recent high-rise with the Epic Center. In the '90s, an abandoned warehouse district was transformed into Old Town.
The early 2000s seemed to be a mixed bag of progress and shortcomings. While there are shining moments like Freddy's Frozen Custard, contributing to Wichita's legacy as a fast-food powerhouse, there's also a loss of corporate representation of longstanding Wichita businesses.
The biggest piece of this was Onex's purchase of Boeing's Wichita operations, creating Spirit AeroSystems. While Spirit is still a huge presence in Wichita, providing thousands of good jobs and supporting countless supplier companies, it's one more degree separated from the decisions made at Boeing and the other major aircraft companies Spirit serves.
Similarly, Rent-A-Center moved its corporate headquarters to Plano in 2007.
Since then, we've talked a lot about the Four Challenges Wichita faces. And history will make these challenges clearer with time.
But the strategies we used throughout history are still widely prevalent today. The resurgence of the Wichtia flag sparked a new age of civic pride — the type of promotion of which the early founders would be proud.
We also still rely heavily on attracting commerce to support growth, although we're much more sophisticated about it today. The Greater Wichita Partnership, founded in 2012 as the Leadership Council, brings together public and private partners to develop strategies for attracting and supporting business clusters.
Wichita also puts a heavy emphasis on entrepreneurship. NXTUS, formerly the e2e Accelerator, strives to continue Wichita's legacy of business creation by supporting early startups and entrepreneurs and connecting investors looking for the opportunity to help build something.
Wichita's present is a reflection of its past. Similarly, our future will be heavily impacted by the efforts we make today. So as we celebrate 150 years of Wichita history, let's also devote ourselves to action today that creates hope for tomorrow.
TIMELINE:
1981 - The Wichita-Sedgwick County Historical Museum opens in the original City Hall Building at William and Main
1987 - Construction completed for the Epic Center, Wichita's most recently completed high-rise project.
1989 - City approves revitalization plan
1990s - Old Town emerges, creating an entertainment and night life district from former warehouses dating back to the late 1800s
2000 - The Exploration Place opens
2001 - The terrorist attacks on September 11 spark a new age in American consciousness and the global war on terror
2002 - Airbus SE opens Wichita facility
2002 - Scott Redler, Randy Simon, Freddy Simon, and Bill Simon form Freddy's Frozen Custard, Wichita's latest fast-food hit
2005 - Onex purchases Boeing's Wichita operations to form Spirit AeroSystems, which remains one of the world's largest aerostructures manufacturer
2007 - Rent-A-Center corporate offices move to Plano, Texas
2010 - Intrust Bank Arena opens as Wichita's premier concert and sports venue
2012 - The Wichita Regional Chamber of Commerce creates the Leadership Council, which later became the Greater Wichita Partnership
2019 - Construction begins for a new baseball stadium that would replace Lawrence-Dumont and help revitalize the riverfront
NEXT STEPS:
---
---
---
---