There's no doubt that sport is big business. The NFL takes home billions every year. But how do athletics impact the Wichita economy and community?
HOW WINNING TEAMS CREATE A WINNING CITY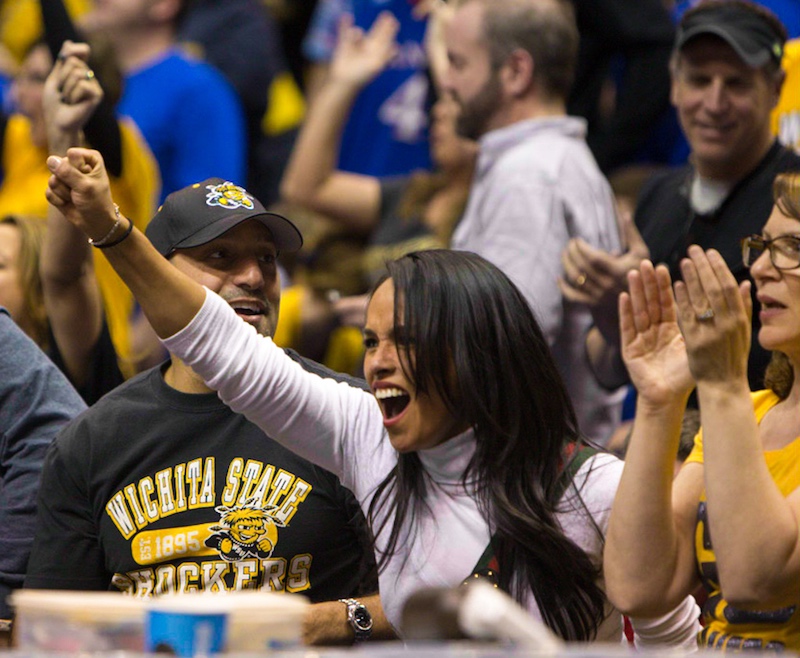 Wichita State fans get pumped at the NCAA Men's Basketball Tournament game against Kentucky. PHOTO CREDIT: BILLY BROWN AT THE SUNFLOWER
The arena vibrates with energy as the home team celebrates a hard-fought victory. Everyone in the sold-out stadium is on their feet, cheering on the team and the city that hosts them.
It's just a game. But it feels like much more. How does this energy and excitement transfer out into the real world — into a city's image or even its bottom line?
We spoke with experts on economics and sports management to find out exactly how success in athletics can be leveraged into success, not just in our athletic programs, but in every aspect of our city.
SPORTS AS AN ECONOMIC TOOL
Each year, people across the globe spend tens of billions of dollars to enjoy sports.
In America, people are particularly hungry for athletics. This year, the NFL, MLB, NBA and NHL brought in more than $31 billion in total revenue, according to cost information site, howmuch.net. The NFL alone brought in $13 billion, making it the top earner of all sports leagues worldwide.
Sports aren't there just to entertain. They're there to make a profit. That potential for profit is the reason cities spend billions to build gargantuan stadiums — rerouting entire transportation systems to handle extra traffic for just a handful of weeks per year. It's also the reason Tom Brady got a $28 million signing bonus this year. Sports are big business.
But how do sports contribute to an economy like Wichita's?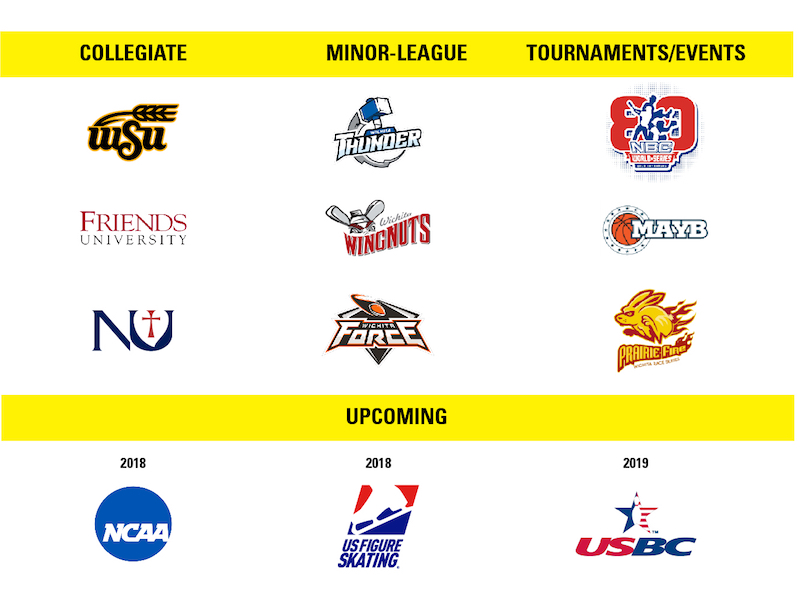 Wichita's sports community is largely made up of minor-league professional teams in baseball, hockey, arena football and soccer, and a network of collegiate teams including Wichita State, Friends and Newman Universities. There are also a variety of participatory sports events like youth tournaments, marathons, golf and tennis tournaments and bowling events.
While Wichita State basketball has been the most impactful sport in recent history, Wichita has historically been successful in other sports.
"It's definitely a very, very unique sports town," says Dr. Mark Vermillion, who heads the Sports Management Department at Wichita State University. "If you look at the history of Wichita, there's a strong baseball tradition, going back to the early 1900s. Bowling is also extremely popular here."
That baseball tradition began when the city of Wichita was first taking off. It was a way of boosting the city's image by proving it had cultural and entertainment offerings rivaling those of other turn-of-the-century economic hubs.
"We were always trying to identify who we were as a community," Vermillion says. "Sport has been very important in the growth of this collective identity."
In other words, sports were a way to increase community pride and create an identity Wichita residents could rally around. It enhanced perception.
One of the arguments that we see in sport a lot is that, whether that's an impactful number or not, it's emotionally important to us.Dr. Mark Vermillion
Perception can have a lasting impact on a city's economy, says James Chung, a data analyst who was hired last year to do an economic check-up on the city. The Wichita Eagle recently dug into the issue, reporting that 37 percent of Wichitans surveyed said they would leave the city if they could, or are in the process of moving already.
So we know perception is important, but what about hard numbers? How much money do sports generate here in Wichita?
The Greater Wichita Area Sports Commission, which promotes and supports athletics programs and events in Wichita, estimates that $16.9 million was brought into the Wichita economy last year. Since the commission was formed 19 years ago, sports programs have brought in more than $407 million. Bob Hanson, president of the commission, says youth sports probably have the biggest impact.
When parents attend professional sports, they often leave their kids at home. But for youth events, the whole family attends, and spends, in Wichita.
"Grandma and Grandpa usually come, too," he says. "It's an even bigger group."
For professional sports, it's a different story, says Dr. Martin Perline, a professor of economics at Wichita State who teaches courses on sports economics.
He says most of the money poured into watching sports is substitutable, meaning that if people didn't spend their disposable income on athletics, they would likely spend it on some other form of entertainment within their city. And in professional sports, most of the money poured into a league leaves the city with its players and coaches.
"I even saw one study where having a professional sports franchise cut down on income, employment and taxes," he says. "But I do see the quality of life. That might be the best argument for any of this."
While there may not be much of an impact on the city's actual income, psychic, or personal and emotional income, should be considered, as well. This often manifests as indirect income from sales of sports paraphernalia, quality of life and an enhanced sense of community.
Even though it's possible to put an actual number on psychic income through studies, it's tough to determine exactly how much impact that number has, Vermillion says.
"One of the arguments that we see in sport a lot is that, whether that's an impactful number or not, it's emotionally important to us," he says.
Sports drive fans to irrational behavior, Vermillion says. People like to go to movies, but they aren't necessarily emotionally tied to a specific theater or director like they are to their stadiums and teams. It's why sport is sometimes referred to as a secularized religion.
When sports teams succeed in a community, it drives more fandom within that community, which then further contributes to this collective identity.
But how do teams breed success?
WHY WINNING MATTERS
Wichita's early athletic success, going back to the city's founding, has left an infrastructure and a legacy we take advantage of today, especially in baseball.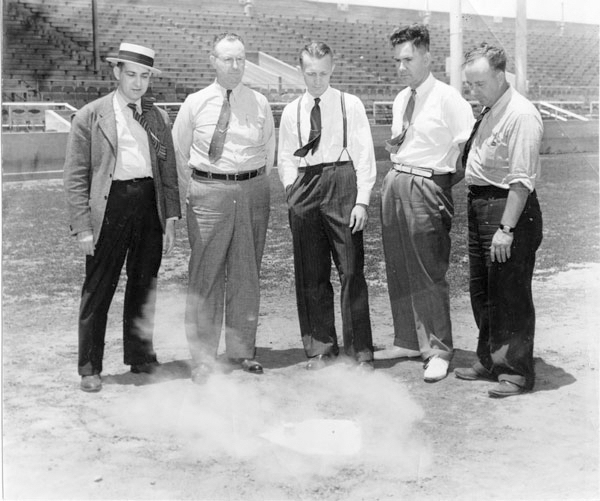 Ray "Hap" Dumont (left) demonstrates an automatic home plate dusting device installed at Lawrence-Dumont Stadium in 1939. PHOTO CREDIT: WICHITA STATE UNIVERSITY LIBRARIES, SPECIAL COLLECTIONS AND UNIVERSITY ARCHIVES
Without the building of Lawrence-Dumont Stadium in the 1930s, would the legacy of success have continued with seven College World Series trips for Wichita State? Would we be hosting the National Baseball Congress World Series, each year bringing in teams from across the country?
A.J. Boleski, general manager of Intrust Bank Arena, sees how success leads to future success all the time.
"If you have some particular act you want to see, a lot of it is driven by how successful acts are when they come here," he says. "Same thing happens with sports. Any time you can have a successful event, it's going to lead to more."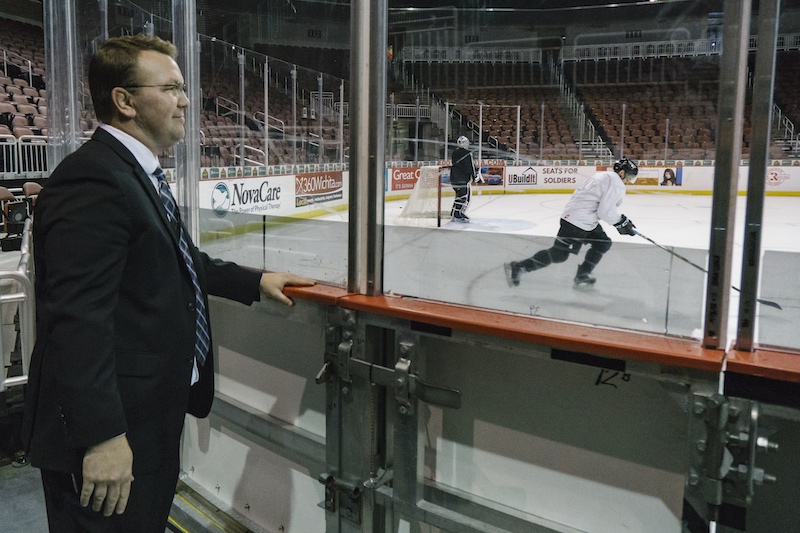 A.J. Boleski, general manager of Intrust Bank Arena, watches as the Wichita Thunder hockey team practices in the arena.
Wichita State's success on the basketball court has become a driver for future success in Wichita athletics, with the Shockers' Final Four run worth more than $500 million in national exposure.
This exposure has over time led to a spike in interest in the university, which expands beyond fandom. The Wichita Eagle reported in 2013 that during the Shockers' run on the NCAA tournament, the number of new visitors on the WSU website rose by 260 percent, and the number of out-of-state visitors went up more than 390 percent.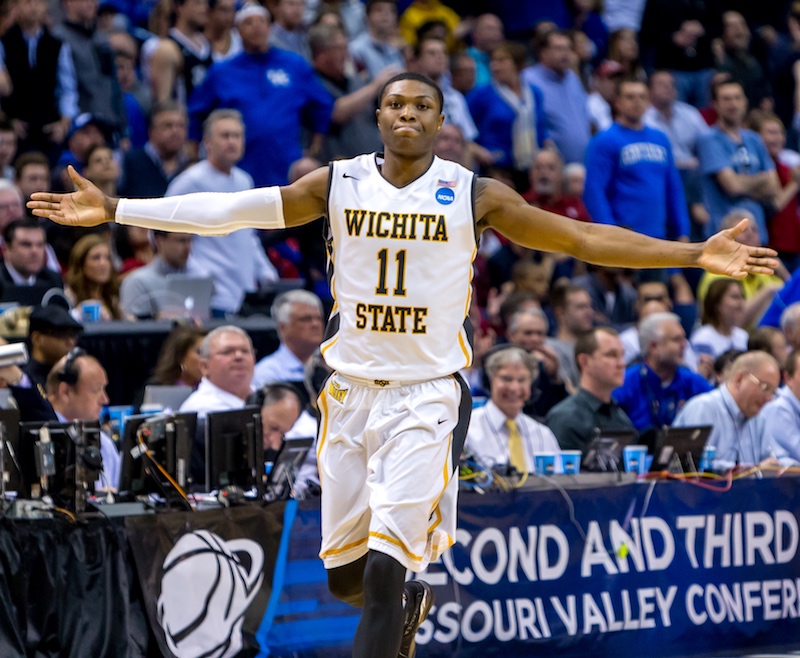 Former Wichita State basketball player Cleanthony Early stands on the court during the NCAA Tournament game against Kentucky. PHOTO CREDIT: BILLY BROWN AT THE SUNFLOWER
"It makes a difference," Perline says. "We were in Canada last summer, and I had a Shocker cap on. Several people stopped me, 'Hey you guys have a good basketball team.' ... Now, did that help the Wichita economy much? I don't think so."
But it does lead to future opportunities. Wichita State is once again looking into adding football to its arsenal of athletics. What impact could that have?
A lot, says Dr. Scott Crawford, commissioner of the Kansas Collegiate Athletics Conference (KCAC), which organizes athletic tournaments with 12 smaller colleges including Friends University and Bethel College.
Any time you can have a successful event, it's going to lead to more.A.J. Boleski
"I have several people tell me that there's not a sport that impacts campus more than football," Crawford says.
He says when the conference website posts a story about football, it garners more hits than all of the other fall sports combined. Even with that impact, Crawford says the cost of football is a tough pill to swallow.
"It's an unbelievable number, not only to start it — to maintain it," he says.
So this arrived... #GoShox pic.twitter.com/GxONJenkxN

— John Bardo (@President_Bardo) February 3, 2016
Dr. Perline says basketball is the main money-maker for most colleges because of the relatively low cost. While football can generate more revenue, its costs are extravagant.
But one way that cost could be worth it is if Wichita State got into one of the major football conferences, which offer huge media deals that boost a school's bottom line and exposure.
"The game may be very similar, but the revenues are a lot different and the fan base is different [in big-conference football]," Perline, who attended Ohio State University, says. "I guess if somebody told me the Big 10 would admit us if we had football, indeed, I might start looking for a coach."
But football isn't the only way Wichita is looking to capitalize on success. Intrust Bank Arena has some successes of its own.
Despite the high-profile music acts, nearly half of all events at the arena are athletics. They play host to the Wichita Force arena football team and the Wichita Thunder hockey team, which has been in the Wichita market for 25 years.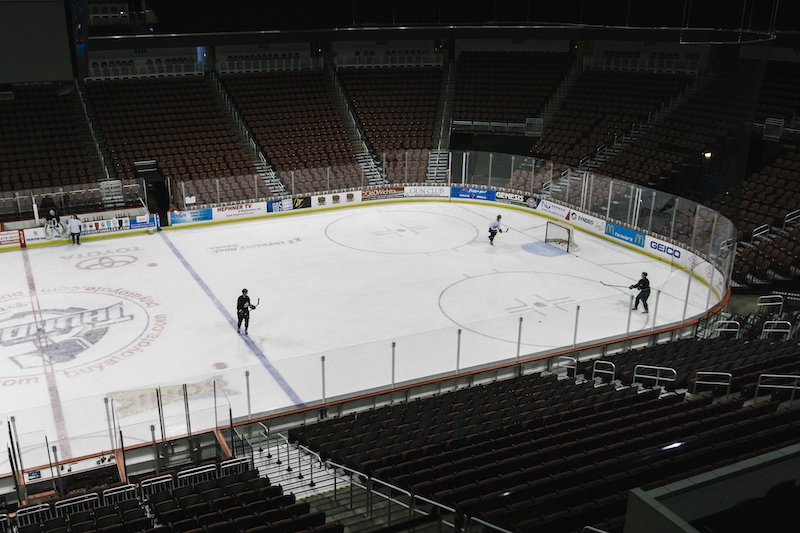 "It's a pretty big deal for a professional sports team to be in a market for 25 years," Boleski says of the Thunder. "It says a lot about our community support."
Because of that support, the Thunder recently became affiliated with the Ottawa Senators NHL team, which means future NHL players will soon be playing in Wichita.
There's no doubt that success breeds success in athletics. But what makes a program successful?
Crawford says two terms are often brought up when talking about success — and failure — in sports. The first is BIRG, or basking in reflected glory. This happens when a team is successful. Fans, or even casual observers, are more likely to associate themselves with a successful program.
On the flip side is CORF, or casting off reflected failure. When a team begins to suffer, even the most die-hard fans may stop associating themselves with that team. Crawford says these concepts are almost always at play in athletics, especially in Wichita. It's important for Wichita to capitalize on the BIRG period before fans begin to lose interest.
"I don't think we were as loyal to Wichita State as the traditional Cubs fan — you know, 'come hell or high water, whatever happens,'" he says. "I think you've seen a lot of people come out of the woodwork because of their success. Now it's Wichita State's opportunity to capitalize on that. ... Just because someone buys one ticket doesn't necessarily make them a hardcore fan. We want to convert them into a season ticket package or even into a donor."
It's not just Wichita State that needs the support. Wichita's minor-league teams need our fandom, even when they aren't performing that well.
"It's crucial," Crawford says. "If we don't support these teams, then these teams can't reinvest in the community. They can't hire people. They can't sign contracts with local players. It's a pretty wicked cycle. If we don't support these local teams, they don't have the dollars to stay."
WICHITA ON THE RISE
The future seems to be bright for Wichita athletics. Intrust Bank Arena will be hosting new events in 2018, including U.S. Figure Skating Sectional Championships and the coveted NCAA Men's Basketball Tournament.
Hanson, who was a leader in the campaign for building Intrust Bank Arena, says the NCAA Basketball tournament was the main reason many wanted to build the arena in the first place. He says when it comes to competing for national events, facilities are everything.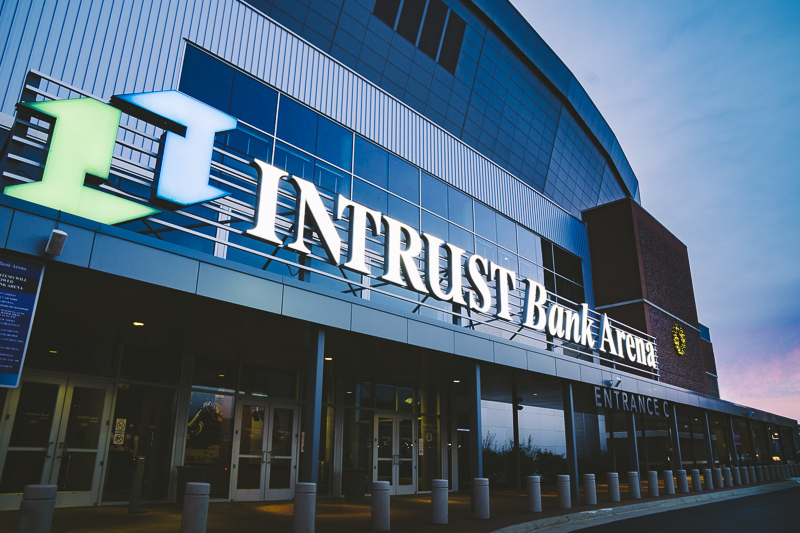 "When we have great facilities, we can get great events," he says. "I think we stack up very well with cities our size. One of the issues we have is we don't compete against cities our size."
For the NCAA tournament, Hanson says we were competing with several larger cities, including Oklahoma City, Kansas City and Tulsa.
These are often the same cities Wichita competes with for regional and national youth tournaments, as well.
"Some of [our facilities] have not kept pace with the growth of youth sports," Hanson says. "When we're competing for soccer tournaments, we're competing with Overland Park, who has 40 to 50 great soccer fields."
Some of [our facilities] have not kept pace with the growth of youth sports. ... When we're competing for soccer tournaments, we're competing with Overland Park, who has 40 to 50 great soccer fields.Bob Hanson
Still, it's getting better, he says. Wichita does compete for youth basketball tournaments — and often wins — with help from new facilities The Forum and Next Level Hoops. The city is also looking into the possibility of using Sales Tax Revenue (STAR) bonds to build a new baseball stadium that would replace Lawrence-Dumont. The city also recently agreed to look into expanding facilities for soccer, baseball and softball in north-east Wichita.
"It's nice to say we have [one of] the oldest stadium[s] in the country sometimes, but there's a downside to that, too," Hanson says. If built correctly, he says the new stadium could host far more than just baseball — even having the ability to convert into a football field for state games in the fall.
This development of new facilities is bound to lead to private developments across the city, as well. A new hotel is expected to open late next year to accommodate the influx of fans for the NCAA tournament.
The Wichita Eagle reported earlier this year that even restaurant owner Schane Gross is considering the tournament as she plans renovations to her restaurant, The Anchor.
"We love to hear that," Boleski says. "We talk about the guest experience a lot, as a building. But it really should be about the guest experience in the community — in the downtown area."
A lot of wins contributed to Wichita's bright future as a sports destination, including hosting NBA exhibition games and a successful NCAA Women's Basketball Tournament. Boleski hopes to ride this success even further, eventually getting more major-league exhibition games for the NBA and even the NHL.
"It's all about momentum, and the winds of change," Vermillion says. "You never want to say, 'Never.'"
That being said, the odds of getting a major-league franchise to locate a team in Wichita aren't great. But it's not unprecedented, either.
Several teams have located in small metros over the years, including Jacksonville, Florida, Green Bay and even Oklahoma City.
But Vermillion says each of these were somewhat unique situations. Jacksonville has nice enough weather to host a late-season playoff game or the Super Bowl. Green Bay got its team about a hundred years ago, when the metro was relatively large.
Oklahoma City was deemed viable after it hosted games for New Orleans following Hurricane Katrina. Plus, the owners of the Seattle Supersonics were originally from Oklahoma City.
Vermillion says things always change, though.
"If you go back decades, they didn't think [Arizona] was going to be viable for professional sports. That, obviously, has changed," he says. "As economics have changed, as migrations of people, as the economic infrastructure of Arizona changed, and the University changed, people's attitudes about professional sports changed."
Vermillion says the best thing Wichita could do is "close the loop" on its negative perception of itself and get back to its roots as a highly educated, technological metro.
"How come that can't happen again?" he says. "And if that does happen — maybe just purely as an emotional point for collective identity and entertainment — then maybe a larger major-league professional sport franchise would start to look."
---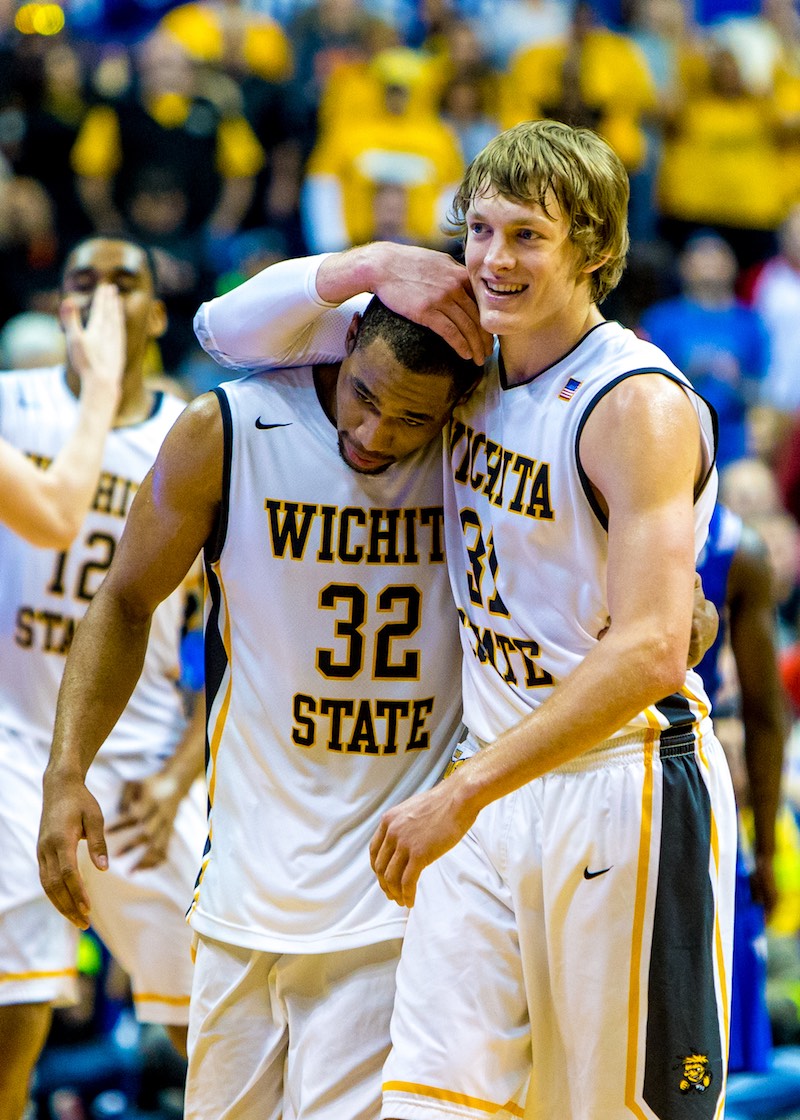 Former Wichita State basketball players Tekele Cotton (left) and Ron Baker (right) share a moment of victory at the Missouri Valley Conference Tournament. PHOTO CREDIT: BILLY BROWN AT THE SUNFLOWER
The arena empties as fans pour out and head to their favorite restaurants and bars. Maybe it was just a game, but spirits are high and people are proud to be Wichitans.
That kind of energy and pride is bound to spill across the city, into our perception and our economy.
NEXT STEPS:
---
---
---
---