Learn more about Wichita's newest program for fledgling startups and how it helps contribute to the city's overall ecosystem of startups, entrepreneurs, incubators and mentors.
A mentorship and incubator program set up between the e2e Accelerator and Wichita State University's Center for Entrepreneurship, LaunchPrep brought nine entrepreneurs together with more than a dozen mentors to work through the challenges of getting a startup off the ground.
Before joining the program, Abby Hannaford says she felt like a dog chasing her tail.
Hannaford founded her craft tea business Cozy Leaf after learning about the benefits of herbal tea while recovering from a vocal issue in college. She was a theater major, which meant she had to recover quickly.

"I started drinking a lot of herbal teas," she says. "And they were absolutely disgusting."
Wanting to save herself the nausea, Hannaford says she started experimenting with herbal blends. After years of study and experimentation, she eventually created recipes to share with friends and family. These recipes eventually led to Cozy Leaf.
Three years ago, Hannaford was contacted by Reverie Coffee Roasters owner Andrew Gough, who wanted to serve Cozy Leaf at his coffee shop. Around that same time, Whole Foods Market also reached out to get Cozy Leaf onto the shelves of the newest Wichita Whole Foods.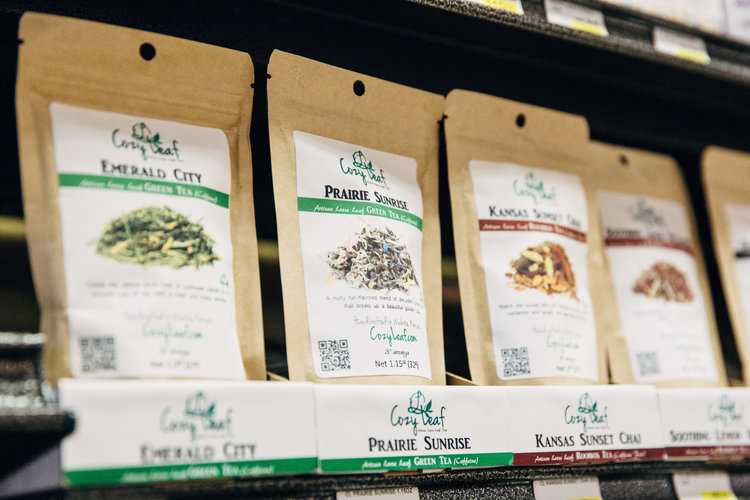 "I said yes and threw on my entrepreneur hat," Hannaford says. "I had about two months at that point to throw together an entire business."
Hannaford was a stay-at-home mom at the time and was homeschooling her children, as well. Still, she managed to get Cozy Leaf into the store and is now in four Whole Foods locations, 13 Natural Grocers, Green Acres and dozens of coffee shops.
Even with this success, Hannaford says her business needed a makeover to have lasting growth. With children now in school, she decided it was time for the makeover, and LaunchPrep was the perfect way to do it.
E2E + WSU = LAUNCHPREP
Hannaford says she first learned of LaunchPrep through Andrew Gough. He sent a message that simply said, "Abby, do this" and included Jacob Wayman, director of the e2e Accelerator, on the email.
"There was no link, no nothing. Just 'do this,'" Hannaford recalls. "And then Jacob kind of introduced me to everything about it. And immediately, I applied."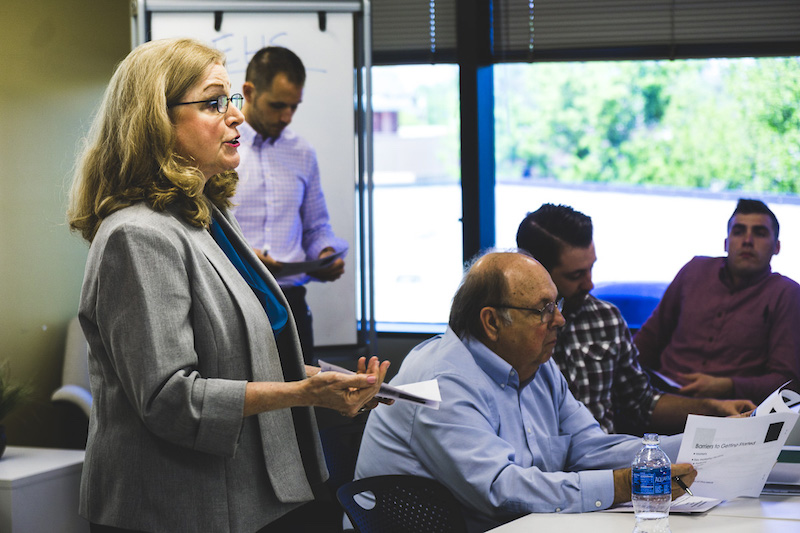 LaunchPrep is a partnership between WSU and e2e that takes early-stage companies in Wichita and connects them to a select group of mentors — entrepreneurs or business leaders who have seen success and want to pass it down.
After an extensive application process ending in a six-minute pitch, Hannaford's Cozy Leaf was one of nine businesses selected for the first session of LaunchPrep. The others were Vytal, RIAspire, OutStanding Screens.com, LawnBuddy, Jenny Dawn Cellars, Elevated Health Systems, CurveBreak and Augustino Brewing.
Together, entrepreneurs met with mentors and facilitators in the WSU Experiential Engineering Building on Innovation Campus, a building focused on an array of engineering fields, advanced labs and the GoCreate maker space, which is available to the entire community.
Rick Ralston, one of the mentors who worked directly with Hannaford, says the partnership between WSU and e2e allowed for some great connections through LaunchPrep.
"I think there's a lot of energy around Wichita State and Innovation Campus and the new Experiential Engineering programs, and that energy came right into LaunchPrep," he says. "I think there's credibility and also some nice synergies between LaunchPrep, the Shocker New Venture competition and the E-Launch program they have, as well."
A LAUNCH PAD FOR STARTUPS
Hannaford says these connections have paid off for her and others in the LaunchPrep program. Before the program, Hannaford says she recognized a variety of customers who all needed different things from her product. With help from Ralston and her other mentor, Steve Hayes, she now realizes she has "channels" in retail and food service, which require different growth strategies.
"They've helped me identify and basically get financials and a business plan around that," she says. "[It's allowed me] to really get a plan in place instead of just trying to solve problems all the time."
Hannaford says her mentors were perfect for the type of help she needed, as well.
Ralston himself comes from the startup world. After seeing success leading and selling startup efforts, he went to work for an internet technology company called iProspect, which did digital marketing for big-brand clients like General Motors, Adidas and Proctor & Gamble.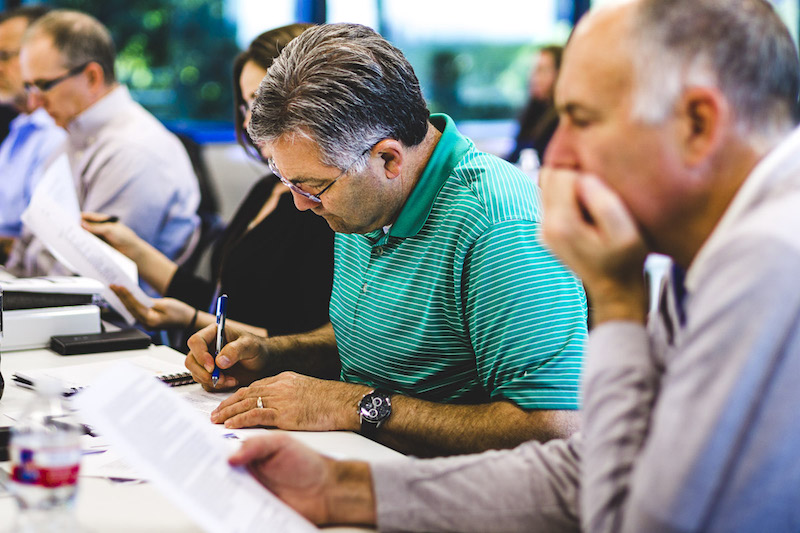 "Rick has just a wealth of knowledge in terms of online sales, SEO, Google Adwords — all these important things for the direction I'm going now," Hannaford says.
Hayes, now a partner at LC BioPlastics, spent decades in supply chain management with his company, Hayes Holdings, which focused on production and distribution of goods through mass retailers.
"So a lot of the problems I faced on the retail side, Steve was quickly able to identify," Hannaford says. "It's a good group of guys."
Ralston says that while he, Hayes and Hannaford would get together for pow-wow meetings weekly, the mentorship relationship extended to the entirety of LaunchPrep. And that relationship wasn't just about solving problems, but about supporting each entrepreneur's vision of success.
"As a mentor, our role is not to jump into the operations of an entrepreneur's business and tell them what to do," he says. "Our role is to encourage them, motivate them and help them build a network and to learn new tools so that they can achieve their own vision."
THE ENTREPRENEURIAL ECOSYSTEM
LaunchPrep serves a vital role in Wichita's overall entrepreneurial ecosystem by connecting startups with experienced mentors. This allows these entrepreneurs to learn from the mistakes of others and — hopefully — take a shorter route to success.
Ralston saw an impact when he mentored in the e2e program and wanted to continue assisting entrepreneurs through LaunchPrep. But when he was first approached to mentor, Ralston says he was hesitant.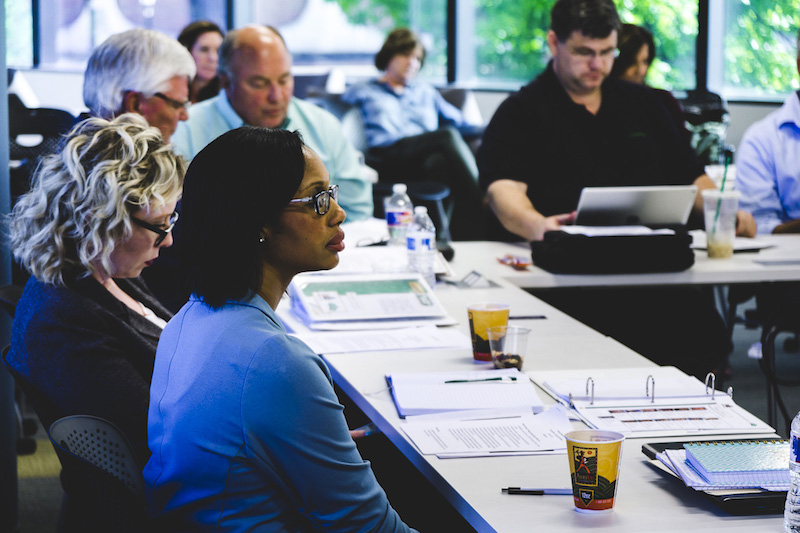 "Originally, I was concerned about the local politics that might be involved in those kinds of ventures," he says. "But once I got involved, I was really impressed that that was not the case at all. It was a whole bunch of people wanting to help entrepreneurs and startups get their businesses off the ground."
This type of community is a huge part of the entrepreneurial ecosystem and has served early-stage startups well since e2e's launch last year. But more could be done, Ralston says.
"I'm really excited to see things like the e2e Accelerator, LaunchPrep, GroundWork and other things that are going on," he says. "Our ecosystem still has some gaps. I think we need to bring more venture capital into our community. I also think we need some more opportunities for ideation."
These gaps are what currently make up Wichita's Entrepreneurship Challenge, as outlined in James Chung's research. With continued focus and passion from mentors and entrepreneurs alike, Wichita can continue filling gaps in its ecosystem to further Wichita's entrepreneurial tradition.
Ralston says anyone considering becoming a mentor should "just jump in."
"Everybody has something of value to add," he says. "Once you start, you don't want to stop. You really want to help people see success."
As for any entrepreneurs considering applying for a program like LaunchPrep or e2e, Hannaford says, "I would say exactly what Andy told me. Do this. Nothing else. Just do it."
Visit LaunchPrepICT.com to inquire about becoming a program participant or mentor.
NEXT STEPS:
---
---
---
---