Join Andrew Gough, owner and founder at Reverie Coffee Roasters, as he opens up about his business and what he's learning from the e2e Accelerator.
WELCOME TO STARTUP DIARIES

In the coming weeks, Andrew Gough, owner and founder at Reverie Coffee Roasters, will be posting stories, photos and videos from his experiences as a member of the first class at Wichita's newly founded e2e Accelerator.
Join Andrew as he opens up about his business and the lessons he learns from the mentors at e2e. There will be highs and lows in this process, as running a business takes passion, wits and the overwhelming drive to succeed.
WEEK 1:
MEET REVERIE'S ANDREW GOUGH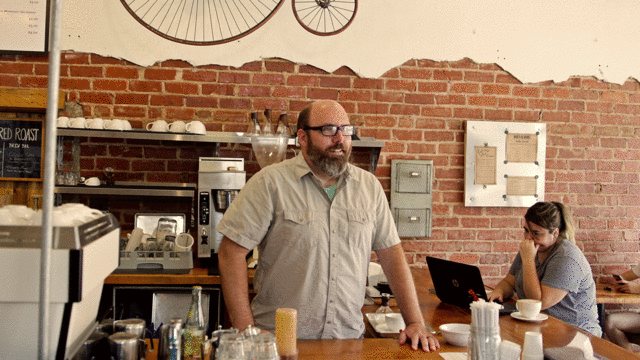 You have probably heard of Wichita's premium coffee roaster. This is the man behind it all.
We sat down with Andrew to learn more about his journey into the world of coffee, and what hopes he has for his own business and Wichita's entrepreneurial culture.
You will be hearing more from this coffee entrepreneur over the next several weeks as he makes his way through the e2e program.
Could you start by telling us a little about your business?
I love telling the story of Reverie, and I think it probably changes every time, but Reverie Coffee Roasters is responsible for making sustainable coffee and community in Wichita. We strive to create exceptional experiences for our guests by roasting and preparing premium coffee beverages in our café.
Reverie is a premium coffee service provider to cafés, restaurants, businesses, churches and schools. We roast our coffee freshly throughout each week and deliver to all kinds of customers who desire to take the experience created in our café right into their workplace.
At what moment did you decide you wanted to throw everything into starting your own business?
In 2012, I had a rough year. My grandmother and mother were diagnosed with cancer, which took their lives later that year. I welcomed my second son 17 days after losing my mom, and later that year lost a great uncle, my wife's cousin and my dad's dog. Meanwhile, I was training to ride a 125-mile ride through the Nevada desert until I ran out of things to do.
Let's just say, I was really trying to block out some emotion.
That is a crazy year — I'm sorry for your loss. What got you out of that?
When I finally had time to sit and think clearly, I decided to get busy again and connected with a former coffee professional looking at getting back into the business. We discussed a strategy and began planning a coffee roasterie.
Could you go back and talk about what previous jobs and experiences you have had?
I worked in financial planning for over four years before transitioning into a retirement plan education coordinator for a local 401(k) administrator. It was here I discovered my desire to help people through the education of complex ideas.
That seems like a far cry from coffee. What happened?
It is. But like many coffee professionals, I came to the industry out of curiosity. I had a clichéd "ah-ha!" moment when I tasted coffee from a former local roaster. It was different — it smelled different. It was sweet without any sugar and it wasn't black as night.
I carried that moment for several years as I dug around and tried to find alternatives around town that gave me that same feeling.
So you just made your own?
I am a curious person and I feel the best way to get to know something is to immerse myself in it.
Yes, I founded Reverie Coffee Roasters in early 2013 while I continued to work as an educator until I was able to retire to run my business full-time.
I chose coffee because I never forgot that first awakening experience. I am a curious person and I feel the best way to get to know something is to immerse myself in it. I opened my doors in June 2013 and have been growing ever since.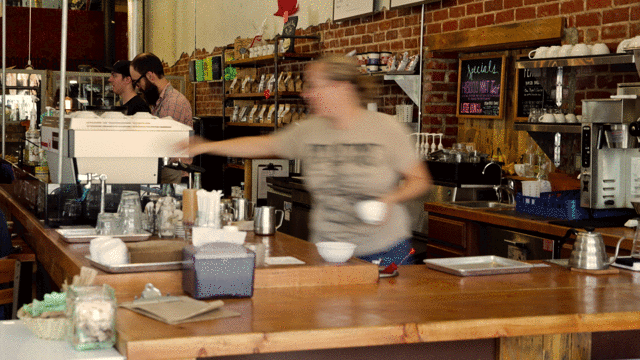 Now that you have started that roaster, what does your average day look like?
A normal day for me begins with a little snooze-button action, followed by gathering my two children up for school or daycare. I usually am at work by 8:30 a.m., and from there it's go-time.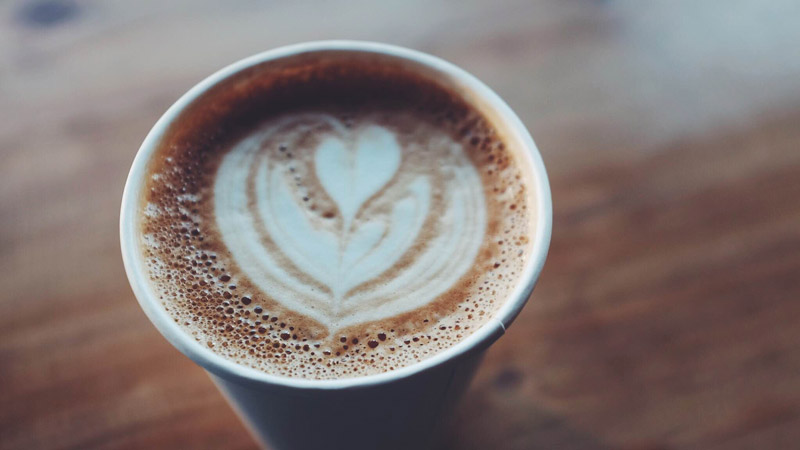 I usually have one to two appointments each day with various prospective customers or employees. From my perch above our business floor, I can watch the world go by while discussing strategies and goals for each of my department heads. If I'm lucky, I'll get lunch before 1 p.m. and repeat the morning schedule over the rest of the day until it's time to get my children from school.
I try to reserve evenings with my kids, Weston (5) and Sullivan (4, Sully) and wife, Katie of seven years. We don't get enough time together during the day. But usually after the kids are in bed, I go to my home computer to work more. During the e2e program, I've spent nearly every night working to complete tasks set by our leaders.
But one thing is very clear: I don't get much time to make coffee! I do my best to take it onto the floor to mingle with staff and the customers. And occasionally you can find me at the bar enjoying our very own coffee. It's the best seat in the house.
Defining some of these entrepreneurial terms is not always easy. So how would you define the words "startup" and "entrepreneurship?"
I like to think of an entrepreneur as a person who is willing to work twice as hard for half their former salary.
I like to think of a startup as being more of a cultural term to describe a type of entrepreneurial path. The path of a startup seems to consist of a template of prescribed steps with an expectation for quick growth.
And I like to think of an entrepreneur as a person who is willing to work twice as hard for half their former salary.
With those definitions in mind, would you consider Reverie a "startup?"
In the infancy of Reverie, I wouldn't consider us to be a "startup" by my definition. I was busy working a second job and couldn't devote enough time to grow my business until after leaving my job. When I began working full-time at my hobby, I was finally allowed to immerse myself in the planning and began taking steps to grow the business to support me full-time.
So it kind of became a startup after devoting more time?
I would say each project I took on was its own mini-startup.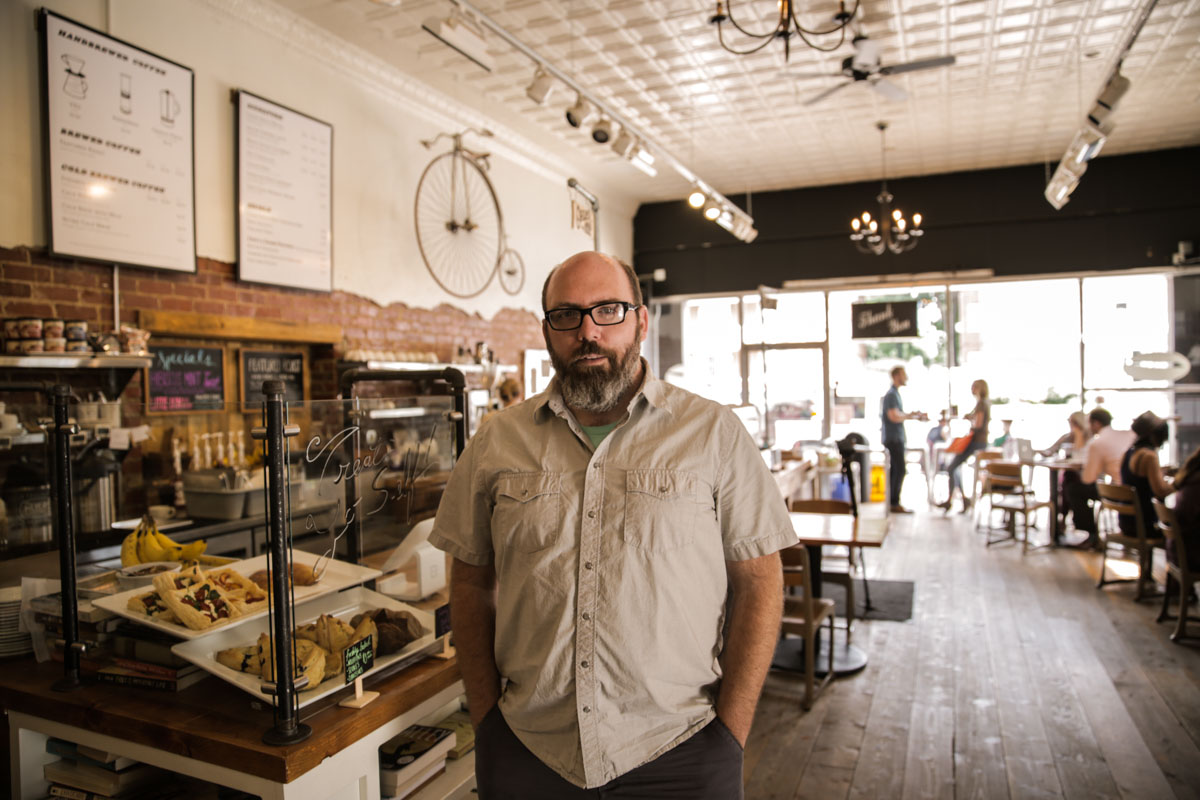 What made Reverie such a good pick for the e2e Accelerator?
I was at the pivotal point where I needed to decide the next step. I had already begun the process for expanding my café operations and relocating my business to a better facility, which is expected to open sometime in early 2017.
So they're just going to be kind of pushing you to that next stage?
Yeah, I think I failed to dig deep enough into the possibilities for what we could strive to become.
What made you so eager to join e2e?
I'd like to think e2e found me, rather than me finding it.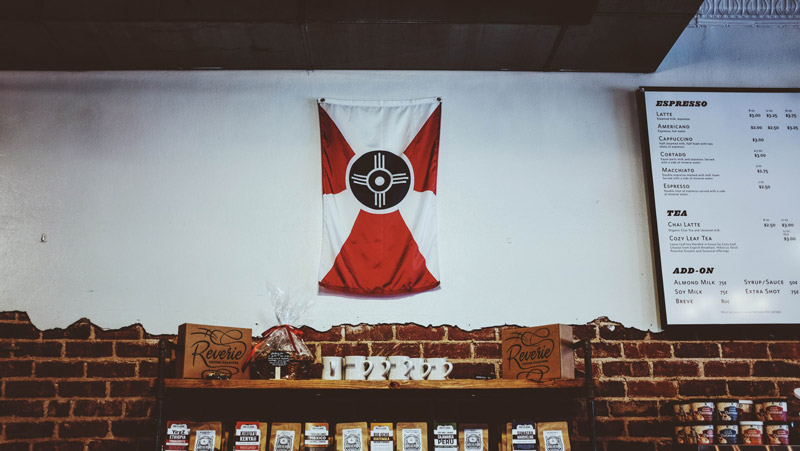 I learned of e2e from 1 Million Cups, where I became connected to the business and startup community. I wanted to help out by sponsoring the coffee service for the event. Eventually, I actually spoke at the event about my business, and shortly thereafter was asked if I was interested in applying for e2e.
I felt that I was too busy to apply, and almost didn't out of pure procrastination. But after I began the application process, my world turned upside down. I realized how many goals I really had and how deep the pool was.
Now that e2e has been going on for a couple weeks, can you share some of the things you've learned so far?
In two weeks of classes — and several 2 to 10-minute pitches later — I have learned that I have a lot of planning yet to do. But now I think I have the confidence and drive to get it done. The most important value I have received so far, from the group and the program, is confirmation that what I'm doing is valid and worthy. I had been too wrapped up in the daily business to recognize that my business had grown into something special and it was time to let it grow up a bit.
What other lessons do you look forward to learning through this process?
Going forward, I wish to learn more about the ins and outs of running a business. I'm a jack of all trades — I wear many hats, which means I can't be great at any one thing.
e2e provides me opportunities for mentorship with area leaders in all areas of business. I'm learning about strategy, competition, leadership and risk management, to name a few.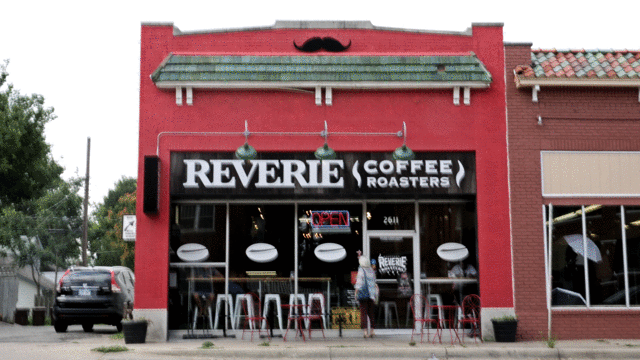 Going along with everything you're learning, what plans do you have for your business?
I've been contemplating how to grow my wholesale business, and e2e has provided me guidance for how to scale up that portion a little bit. I'm interested in creating exceptional coffee experiences in the workplace.
Having worked in an office environment with poor-quality coffee for over 12 years, I can attest that there is a huge void in premium coffee services for employees and guests of businesses. Reverie is positioning itself to become the premium alternative to traditional office coffee solutions in the Wichita area.
As I scale the roasting operation to accommodate growth, I'll also be scaling cold brewed coffee production, which seems to be quite trendy these days. My goal is to be able reformulate the packaging strategy and make our product shelf-stable.
Overall, what are your feelings on Wichita's entrepreneurial scene?
If I had to guess, I would have thought the entrepreneur scene is thriving. But Chung's report was enlightening and sobering at the same time.
I realized I typically surround myself with people who feel the way I do, which probably offers me a distorted view of the real world. We are optimists that care for the city. We love civic pride and the flag — we worship the wall it hangs on! Okay, maybe that's a bit too far.
In all seriousness, how do you think the outlook could be improved for Wichita entrepreneurs?
Wichita startups would greatly benefit from more organized mentor programs. e2e has been wholeheartedly responsible for helping to connect me with area leaders who are willing to offer up some help or advice. I believe programs like that are crucial for connecting business owners with the right people for the right cost.
EDITOR'S NOTE:
Startup Diaries is designed to delve into the lives of Wichita entrepreneurs as they do everything they can to grow their businesses.
Each week during the e2e program, Andrew will update us on his business and his journey through e2e. If you, as a reader, have questions for Andrew about the e2e process or running a startup, reach out to The Chung Report via social media or our contact page.
OTHER POSTS:
NEXT STEPS:
---
---
---
---