Wichita's news media ecosystem has been weakened by shifting consumption habits, a loss of advertising revenue and online sources. What's next for the fourth estate?
WICHITA'S MEDIA LANDSCAPE
The news media that covers Wichita and the surrounding region is comprised of broadcast, radio, print and digital sources. This once strong ecosystem has been weakened in recent years due to a variety of factors, including shifting media consumption habits and a loss of advertising revenue.
For broadcast, it's DVR and cable-cutting. For print, it's the proliferation of online news and the subsequent lower costs of online advertising prompting companies to shift more of their budgets away from traditional print ads.

"The financial model's broken," says Tom Shine, news director for KMUW and former deputy editor at the Wichita Eagle. "[It] has been broken for almost 10 years now."
In those 10 years, newspapers have labored under the loss of revenue while continuing to provide the news with fewer and fewer resources. Veteran Wichita journalists like Shine, who joined the Eagle in 1980 prior to its merger with The Beacon, have been laid off, forcing fewer, less experienced people to do the work.
"It's obviously struggling right now," Shine says. "Is it irreparably broken? I don't know. Maybe. I hope not, but I don't know. No one's figured it out yet."
So what is the root cause of media's decline, and, if it continues, what is at stake for a city like Wichita?
THE THREE-LEGGED STOOL
The declining readership of daily newspapers and other forms of printed news isn't necessarily a reflection of the quality of the journalism.
"People didn't stop taking the media because they didn't like it," Shine says. "This economic problem started in about 2007 or 2008, right around the great recession."
The precarious situation is rooted in financial concerns. People stopped reading the newspaper because they could find the information they were looking for online for free. The consequences of that shift were devastating to what Shine refers to as the three-legged stool of revenue.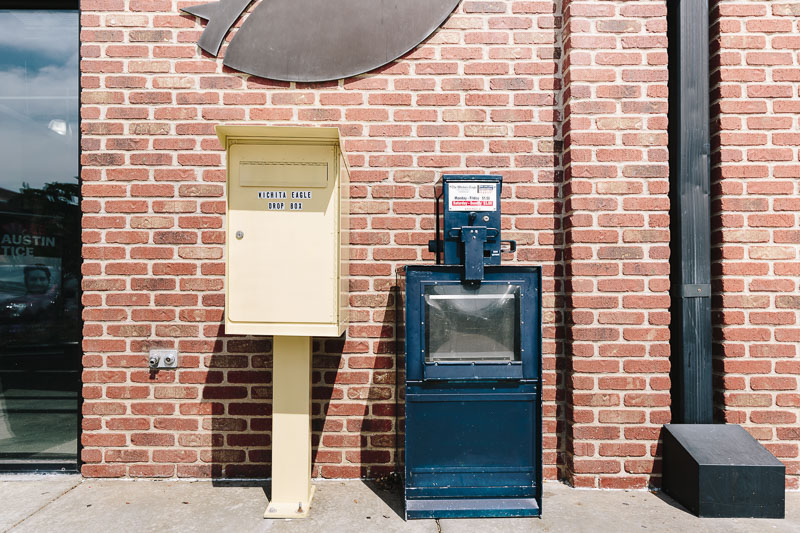 One leg represents classified ads — ads for things like garage sales, job opportunities or cars. This leg has been essentially cut off by online marketplaces like eBay and Craigslist.
People didn't stop taking the media because they didn't like it or thought it was too liberal, that's not true. This economic problem started in about 2007 or 2008, right around the great recession.Tom Shine
The second leg represents print advertising. Businesses would pay a premium to the newspaper to run their ad because they were able to get the message delivered directly to the doorstep of a large subscriber base, or specific geographic areas of the city. As people began favoring free online news sources and social media, marketing dollars followed the consumers.
"If I'm a Dillard's or — name just about any retailer — Starbucks, I can market directly to you," Shine says. "Directly through my Facebook, through my Twitter feed, through my social media. I can drop it right into your email directly."
The third leg is subscriptions — people paying for the news they consume, whether that is delivery of a printed paper, or a digital-only subscription to access content that has been placed behind an online paywall.
"[The] circulation leg is still there to a degree," Shine says. "Although, there's been declining circulation, especially for print, so that leg has been sawed off a little bit."
The three-legged stool of newspapers is now much closer to the ground.
But newspapers, and news media in general, are still vital to the future of our community and even our country's democracy.
WHY MEDIA MATTERS
When Wichita was founded in 1870, Marshall Murdock was recruited to start The Wichita Eagle, the city's first newspaper.
"[The founders] knew that, for the city to grow and prosper, they needed a newspaper," Shine says. "They needed someone to tell the world, 'Hey, Wichita's a happening place. You've got to come here, it's a great place.'"
News still serves this role, communicating Wichita's story to those outside the city. It also influences the overall progress of the Wichita region and the degree to which our citizens are engaged in shaping the future of their community.
"Everyone talks about Wichita wanting to get better and more progressive," Shine says. "That won't happen unless people are informed on what the goals are, what the paths to those goals are, and what we want to become. If we don't write about that and report on that, both the good and the bad, then we'll never advance."
But news media also serves a much broader, arguably more important role as the fourth estate — the government watchdog.

"It's a crucial element of democracy," says Amy DeVault, senior educator and faculty advisor for The Sunflower student newspaper at Wichita State University. "Daily citizens can't go to every school board meeting, every city council meeting, every county government meeting and, certainly, can't be in Washington, D.C., or even Topeka as laws are being made, issues are being discussed and decisions are being made."
Journalists go to those meetings on our behalf, ask questions, look into red flags, fact check and challenge our elected officials to ensure they're acting in our best interests instead of their own.
It's a crucial element of democracy.Amy DeVault
"The most frightening thing that could happen is if there aren't enough journalists to attend the meetings that need attended — to pay attention with the kind of detail that they need to," DeVault says. "I don't want to sound too libertarian or something but, I mean, leaving power completely unchecked is a frightening thing."
Unfortunately, the strain on resources has already spread our journalists thin. Shine says this could be seen in the way city and county governments get covered.
"The Eagle always had a city hall reporter and a county government reporter — we had two," he says. "Now they're the same guy, Dion Lefler, who is highly talented. Is he going to miss a story? Maybe. He's pretty good, but he might miss one, or he's not around enough to find out about a story. That's probably the biggest thing."
Resource strain has also led to a massive loss of institutional knowledge. Experienced journalists like Tom Shine, Stan Finger, Beccy Tanner and Roy Wenzl have all been let go by the Eagle. Can their knowledge about sources and the community really be replaced? What about their mentoring?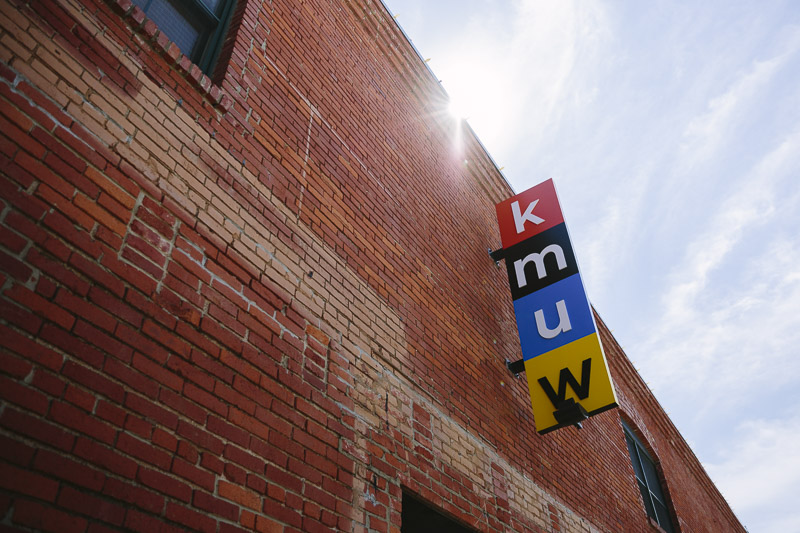 "Not just newspapers, but any business has veteran people who are not only good workers, but also try to help impart knowledge on the younger people," Shine says. "The Eagle's hired a lot of young people. Bright, young — I think they're going to be great. But all of us need mentoring. I worry that they're not going to get that level of mentoring that they need. I hope I'm wrong, but I worry about that probably as much as I worry about institutional memory."
If we want a solid democracy — one where voters are informed, engaged and are able to decide what they want for their future — we need journalism. Whether it's KAKE, KSN, KWCH, KMUW, The Eagle, The Wichita Business Journal or online blogs, reliable information is absolutely vital to the future of our city.
It simply can't go away. But how will it evolve?
WHAT'S NEXT?
The future of journalism is largely unwritten. It has been shaken to its core. Everyone agrees it has to stay. But how it stays is still up in the air.
"That's the million dollar question, right?" DeVault says.
Shine says the near future could see a reduction in print, as other communities across the U.S. have already experienced. Our daily Eagle newspaper is already being cut down, as it moves to digital-only on Saturdays.
In TV news, the effects of revenue shortages haven't been as drastic, but Shine believes we'll start seeing the effects of cable cutting in the near future.
"Their traditional core audience for TV is pretty much the same traditional core audience for newspaper readers," Shine says. "Like newspaper readers, that's an aging demographic."
Digital clearly has a future, but only the premier, national papers are succeeding in charging for their product. The Wall Street Journal, The New York Times and magazines like The Atlantic and The New Yorker seem to be staying strong with digital subscriptions.
But the people who pay for these national sources aren't always willing to fork up the money for local sources, which are the only ones covering topics that impact day-to-day life here in Wichita.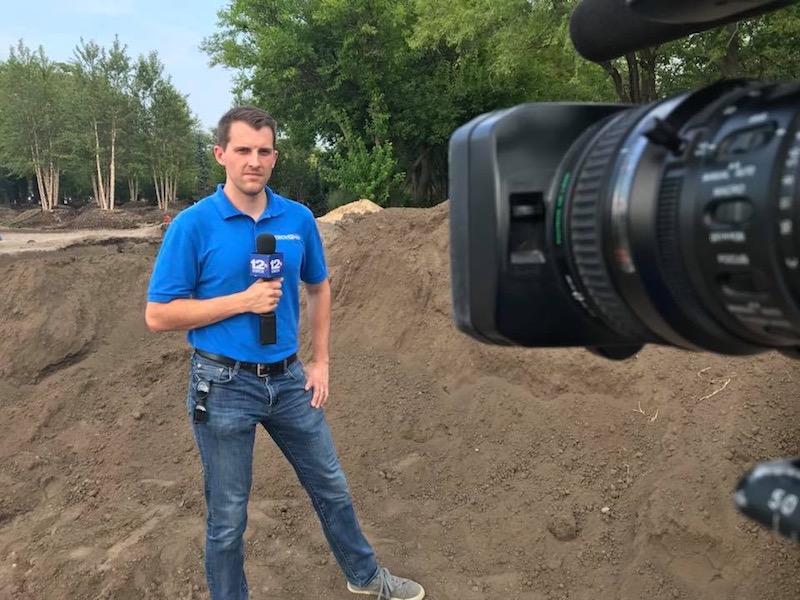 "That's why local news is so critically important," Shine says. "We're the only source for that. No one can parachute in and cover that."
The future of journalism is also dependent on future journalists — those in school today choosing to start a career in a field that has an uncertain future.
That's why local news is so critically important. We're the only source for that. No one can parachute in and cover that.Tom Shine
Fortunately, DeVault says there are still students pursuing journalism. But how they will get paid for their future work is still unknown.
"I believe they will have jobs," she says. "I don't know who's going to pay for that. That's the scary part."
The Wichita Community Foundation has taken an interest in the future of journalism in Wichita, as well. Courtney Bengtson, director of strategic initiatives for the Foundation, says it's an extension of their work with James Chung in Focus Forward.

"Our whole premise of Focus Forward was to put information on the table for the community to know," she says. "There are things that are really important to the economics of our city and of our quality of life. And if people aren't informed of those, then then they can't make decisions that affect them."
The Wichita Community Foundation is now conducting research alongside the Knight Foundation, Hearken and the Solutions Journalism Network to find out how journalism — on both the local and national level — can progress.
"We're building it out as it goes, seeing how things are happening both locally and nationally," Bengtson says. "We're approaching this with a holistic idea that if we strengthen the ecosystem as a whole, it will ultimately lift up news and information as a key source of change in Wichita."
Bengtson says the Foundation will likely be working on their journalism project over the next few years. For now, the solutions are unknown.
"I don't think there's an answer yet," Bengtson says. "Because I think if there was an answer, everybody would be flocking towards that."
Many have looked to a nonprofit model as a potential fix for journalism's long-term sustainability. But even nonprofits have to make revenue to pay for their staff, building and equipment.
"There's much debate still about nonprofit versus for-profit," Bengtson says. "I think there's benefits to both, but, clearly, the route is that something's not working. So changing that — reimagining it — is going to be part of this process for us."
Nonprofit media outlets reliant on major benefactors are also exposed to potential conflicts of interest should a vital funding source be the subject of an either positive or negative news story. As a nonprofit that gets funding through grants and donations, KMUW takes this issue of transparency very seriously.
"It's not as easy to say that we'll be a nonprofit and it'll all be better," Shine says. "I think that's perhaps a strategy — to maybe collect some other funding through grants or through donations, but it's not the cure-all by any means."
While the future of journalism is, to a degree, uncertain, the obvious next step for anyone in Wichita is to consume local news, whether it's on TV, the radio or the local newspaper — digital or physical.
Then, consider paying for that source. Someone has to, because if we don't pay for it now, we will most certainly pay a dire price later.
NEXT STEPS:
---
---
---
---