Tech entrepreneur and founder of Lawn Buddy Steven Werner talks about his company's role as an innovator and disrupter in the 100-year-old lawn care industry.
WEEK 4:
DISRUPTING THE LAWN CARE INDUSTRY.
"Bringing an archaic industry into the 21st century" is one of the slogans my wife, Sonya, came up with that has really stuck with our company.
The lawn care industry is well-established and has been around a long time. According to the National Association of Landscape Professionals (NALP), the industry has annual revenues of $78 billion and a growth rate of about 4 percent. Digging a little deeper into our own backyard, Wichita State University's 2017 Wichita housing forecast predicts 10,800 new home sales this year — 520 more than in 2016.
Now, why did I bore you with all of this data? Because real estate sales directly impact the lawn care industry. More new and existing home sales in Wichita mean there are more lawns that need to be maintained. While not every new home will need outsourced maintenance, many will look for options to maintain their properties. We are that solution.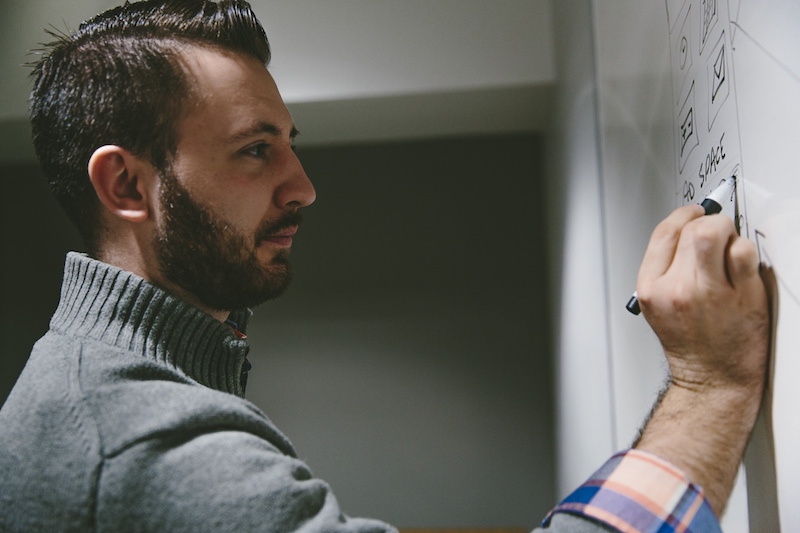 Lawn care is an archaic industry. Homeowners will often turn to Craigslist, or simply wave down one of the lawn care trucks driving through their neighborhood. However, customers also want to make sure their lawn care providers have the correct licensing, insurance and background checks. Customers often don't have an option between paying for top-dollar yearly contracts and spending hours trying to find a reliable provider.
On the flip side, lawn care providers are also searching for an outlet to provide for the growing demand for non-contracted, on-demand services.
Fear not — Lawn Buddy is here to drag the lawn care industry into the future.
In our emerging industry, many new tech companies are neglecting local lawn care providers. We have recognized this trend and are making a commitment as a company to deliver real value to providers as they grow their companies in their communities.
Last July, we entered our beta-testing phase. In a short time, we helped create three new lawn care providers, and more than doubled existing providers' productivity. Our platform was a catalyst for individuals seeking part-time or full-time work. These are good jobs, too. There is a negative stigma associated with lawn care. Many think it's a side job, or for high school students. But $30 to $50 per hour is much more than a side gig.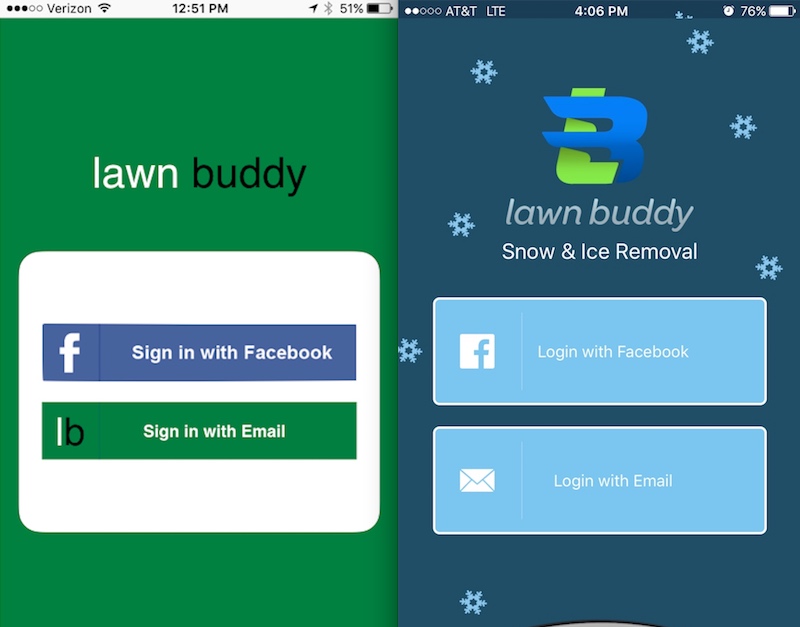 This shows just how far we've come. On the left is the very first mock-up, or wireframe, of our Lawn Buddy app. On the right is our snow and ice removal app that is out on iOS now.
We are here to show people that lawn care is not just a dingy side job but a very lucrative career.
That perception is changing every day. When customers see that they can literally push a button to get lawn care, it shows them the future is here. And when providers see how efficiently they can reach their customers and access tools for marketing, paying bills, scheduling, route planning and financial data management, they start to realize they will be able to stop working in their business and start working on their business.
When I tell providers that the industry is changing, they're understandably skeptical. But when I show them the tech behind our platform and how customers are responding to it, it often changes their views.
Changing an industry does come with challenges. The lawn care industry dates back to about 1915 and hasn't changed much since then. Sure, we have new equipment and fertilizers, but the customer experience has stayed the same.
So when I tell providers that the industry is changing, they're understandably skeptical. But when I show them the tech behind our platform and how customers are responding to it, it often changes their views.
I like to compare it to the early days of social media. When I was younger, there was this platform called Myspace. I thought it was the coolest thing ever.
One day, my cousin from the east coast told me to try out this new thing called Facebook. I told her, "I don't need that crap, because I have Myspace, and it will never go away."
We all see how that went.
-- Steven
OTHER POSTS:
NEXT STEPS:
---
---
---
---