Tech entrepreneur and Lawn Buddy founder Steven Werner explains how Wichita's entrepreneurial community serves as a conduit for sharing knowledge between new and mature startups.
WEEK 3:
CREATING AN ENTREPRENEURIAL ECOSYSTEM.
In creating a tech startup focused on connecting lawn care providers and homeowners, the team at Lawn Buddy has become part of Wichita's larger entrepreneurial community. Lawn Buddy founder Steven Werner explains how this community serves as a conduit for knowledge sharing.
HOW WE'VE BEEN HELPED:
So after we finished the Shocker New Venture competition, we really had no idea what to do next. I knew we had a solid concept — we had loads of validation from both homeowners and lawn care providers to prove it. But I didn't know the next steps.
Around that time, I remember Nancy Kersenbrock telling me to attend 1 Million Cups to start getting involved with Wichita's startup scene. This unlocked a whole new community that has helped me beyond what I thought was possible, starting with Ted Kriwiel, Toby's older brother, and Jacob Wayman, director of the e2e Accelerator, both of whom I met through 1 Million Cups.
Jacob's support and friendship has been absolutely amazing. He opened his address book and helped me connect to the right people. I've met many of my business contacts and friends through him, ranging from Paul Lavender, who aided in structuring our numbers, to Kenton Hansen, who really has his finger of the pulse of the Wichita business community.
I could sit here and list off names upon names of people who have helped not only myself, but our entire team. They are the reason our company strives to pay it forward in any way we can.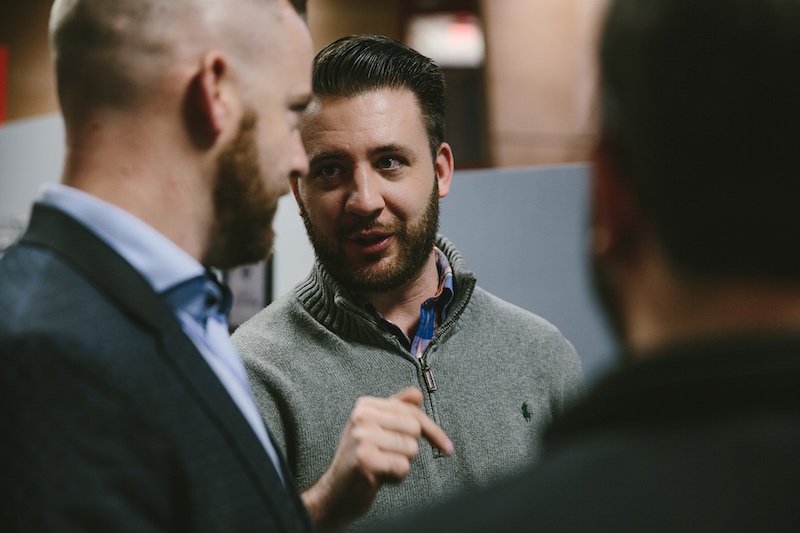 HOW WE TRY TO HELP:
Fortunately, the help we have received has really put us in a position to pass help on to others.
As an example, we won several in-kind services from the Cox Get Started Wichita competition. One of those was an internet package worth $2,500. Instead of using the package to set up a huge home services package for us, we made a team decision to donate the services to all the companies at GroundWork and the employees at Builders Plus. Through that, we were blessed with the opportunity to not only help our company, but pay it forward to eight other companies.
We also try to help through providing advice and guidance in situations we have been through. I by no means think we have "made it" — we still rely heavily on our mentors and advisors. But we have solved several problems that are bound to be problems for other companies as well, so the least we could do is help them through it.
We also believe in giving back to the community and our employees. Our company has committed to giving back to local community gardens by donating lawn clippings from lawns maintained with eco-friendly equipment. We have also just created an unlimited vacation policy for our employees. We believe that if you have more time to spend with your family, improving your personal life, you will be happier and more productive at work as well. We are also in the process of structuring maternity and paternity leave policies that will give new mothers up to a year of time to spend with their new family member.
The momentum we create in that one breakthrough will blaze a path for others to follow.
BLAZING A PATH BY GIVING BACK:
It drives me crazy when I see companies that want to "help" startups and other entrepreneurs but have a "pay to play" business model. If you truly care about growing our community, you have to give back without any intentions of ever being compensated.
Andrew Carnegie once said, "No man will make a great leader who wants to do it all himself or get all the credit for doing it." It takes a village, and this village just happens to be called Wichita. We need a win, and as long as the community is willing to help, I couldn't care less if that win is Lawn Buddy or not. The momentum we create in that one breakthrough will blaze a path for others to follow.
-- Steven
OTHER POSTS:
NEXT STEPS:
---
---
---
---