Join Wichita tech entrepreneur Steven Werner as he shares his journey over the next 10 weeks, leading to the launch of his app, Lawn Buddy.
STARTUP DIARIES: LAWN BUDDY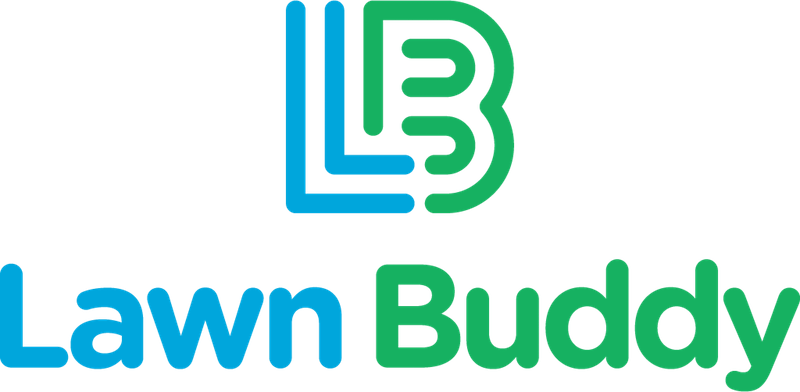 For the next 10 weeks, Steven Werner, founder of the mobile app, Lawn Buddy, will be sharing stories, photos and videos from his life as a Wichita tech entrepreneur.
Join Steven as he shares the ups and downs of running a tech startup in Wichita, alongside a community of young entrepreneurs at GroundWork Startup Hub, an incubator founded by Builders Plus CEO Chris Callen.
WEEK 1:
MEET LAWN BUDDY'S STEVEN WERNER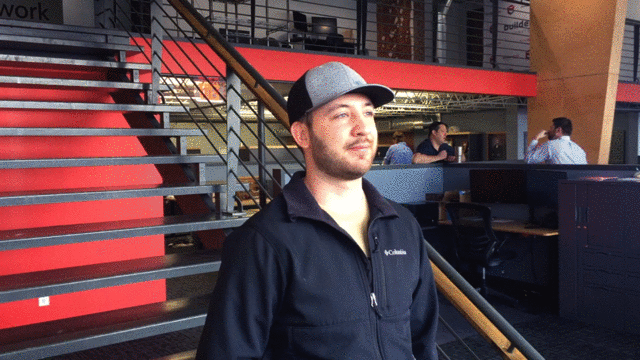 If you've ever looked out onto your snow-covered driveway or out-of-control lawn and wished you could hire a lawn care professional on the spot, you can probably see the value in Steven Werner's Lawn Buddy concept, which connects lawn care providers to customers with a mobile app and website.
We sat down with Steven to ask him some questions about his life, his business and what it has taken for him to get it off the ground.
You will be hearing more from Steven over the following weeks as he works toward Lawn Buddy's official launch, scheduled for this spring.
Could you start by talking a little bit about yourself and your business?
I am a transplant entrepreneur from Wyoming. Since moving to Wichita, my wife and I created a concept called Lawn Buddy, which is an on-demand lawn care and snow removal service, that connects lawn care providers, or "lawntrepreneurs," to homeowners, with a user-friendly app and website.
So what did you do before, in Wyoming?
Well, my background is rather interesting. About two weeks after graduating high school, I enlisted into the United States Marine Corps. I served a total of four years active and four years inactive with a tour to Afghanistan in 2012. While in the military, I received and took advantage of many training and education opportunities, including college courses through Central Texas College.
After leaving the Marine Corps, I went back to my hometown of Kemmerer, Wyoming and began work as a structural project manager and engineering technician for Crank Companies, Inc. While working in Wyoming, I met my wife, Sonya Werner, who is an electrical engineer.
What eventually brought you to Wichita?
We were pretty tired of driving two hours to get to the nearest Walmart, so that's when we started looking into other opportunities. Sonya was soon offered a position in Wichita, and we moved in the fall of 2013.
While in Wichita, I found that, because I did not have an official college degree, I couldn't land a job similar to the one I had in Wyoming.
So what did you do?
Well, I started working armed security and eventually worked at Thunderbird Firearms academy when they opened their location on Greenwich. I also started pursuing a degree in entrepreneurship at Wichita State.
How did you get the idea for Lawn Buddy?
If I'm being truthful, the fear of a good woman and a touch of procrastination led to the idea for Lawn Buddy, rather than my own past experiences.
I came home from class at Wichita State University and our lawn was overgrown. I had been saying what every good husband says to their wife when they want to put off a task: "Ahh, I'll get that first thing tomorrow, dear!" My only problem was, tomorrow was now today. I immediately wished for a lawn care service in which I didn't have to enter into a yearly contract. I just wanted it for that one time.
After looking and finding nothing that matched what I needed, I decided to do it myself. I waited for Sonya to come home and we came up with a loose business model and called it "Lawn Buddy." I never did mow the lawn that day.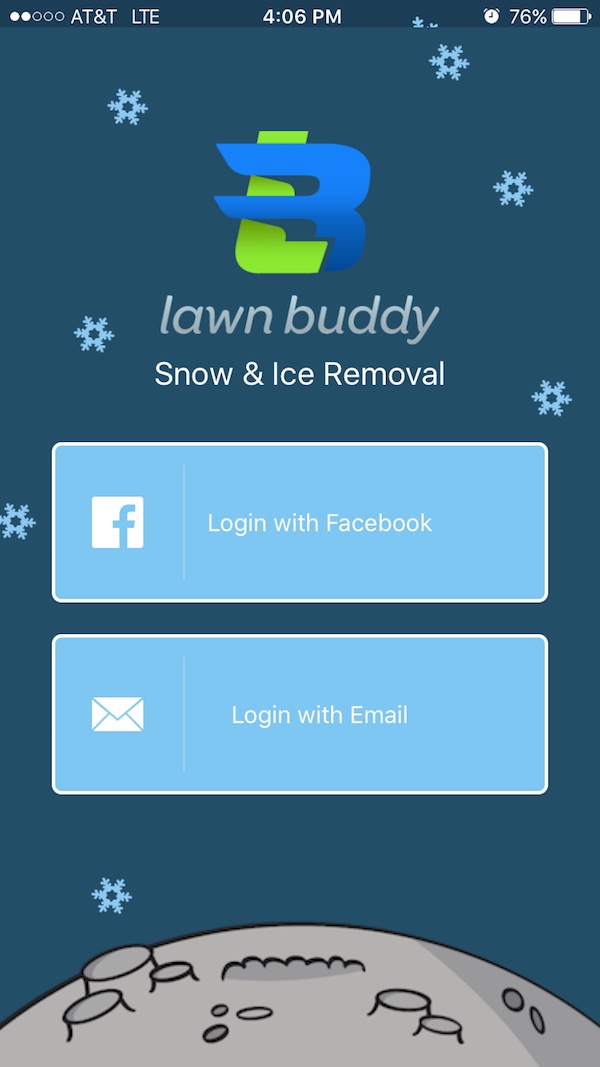 When did the business start taking off enough for you to pursue it full-time?
July 1, 2016 is the day I left my Job at Thunderbird to pursue Lawn Buddy. We gained a lot of momentum after we competed in the Shocker New Venture Competition. I was also introduced to my personal mentor Mark Torline, and Jacob Wayman of e2e Accelerator. Philip Matthew also came on board as our technical co-founder, which really helped transition our idea into a reality.
My wife, and COO of the company, really deserves a lot of the credit for encouraging me to invest all of my time into Lawn Buddy. Sonya has always supported me in every aspect of growing the company. Without her encouragement and guidance, I feel like it may have taken me a while longer to make the decision to jump on board full-time.
Is it unique for someone with your military experience to start a business like this?
Many statistics say that there are over 3 million veteran-owned companies out there, so I'm definitely not alone as a veteran entrepreneur.
How do you think that military service has helped you in this new world of entrepreneurship?
"Embrace the suck" is a saying in the military, basically meaning that when you find yourself in a difficult situation, embrace it, adapt to it and overcome. I think that perfectly sums up a lot of the situations you find yourself in while starting a company.
I feel like the military sets you up for success in the entrepreneurial world, by giving you the ability to analyze situations and execute solutions. That has been a huge advantage to myself and Lawn Buddy.
Some of these entrepreneurial terms can be tough to define, so how would you define "startup?"
I would describe a "startup" as an individual or group-led effort to capitalize on existing opportunities. I firmly believe there is no such thing as a novel idea, only solutions to a world full of stupid problems. What makes someone an entrepreneur is being able to identify these problems and give customers an effective solution.
By that definition what makes Lawn Buddy a startup?
Lawn Buddy is a group of people who identified lawn care as an archaic industry, and is now working to provide customers with an effective, modern solution to a relatively cumbersome problem.
Could you talk about your partnership with GroundWork and the other entrepreneurs there?
I met Chris Callen, the founder of GroundWork, at the same e2e function where I met our technical co-founder, Philip, Trevor Crotts of Buddy Rest and Miguel Johns of King Fit. It was there that I began to hear whispers of an incubator space that was getting ready to launch. After talking to Chris at the event, and later in a follow-up meeting, he made us an offer to have Lawn Buddy become part of the GroundWork team.
We appreciate the fact that Chris and Builders Plus have provided us with work space and other opportunities as we grow.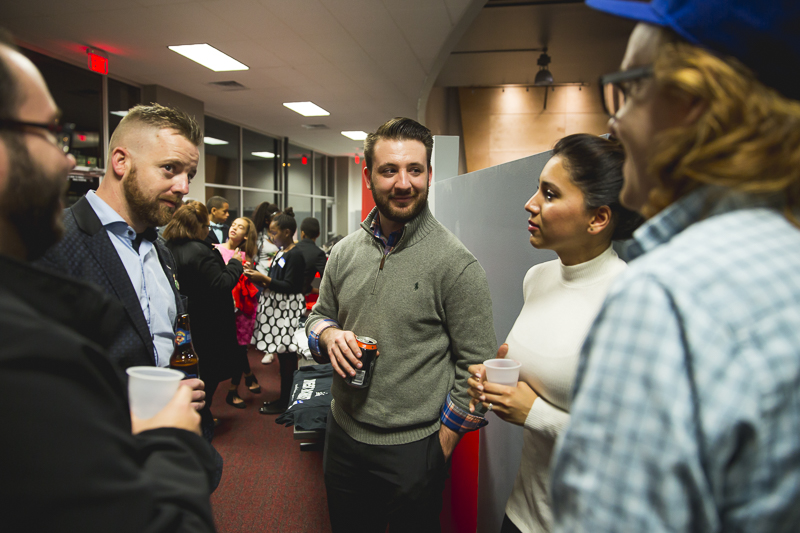 What kinds of collaborations have happened there at GroundWork?
Us being at GroundWork has actually led to several collaborations with other companies there. We actually just finalized everything to have Toby Kriwiel, CEO and Founder of Matano, become our Director of Creative Marketing and Sales.
What have you learned so from these other entrepreneurs?
I have learned so much from all of these other companies, and we rely on each other quite a bit to solve problems. When we come across a problem, we can literally just walk down the hall to see if one of the other tech startups have had a similar situation.
So I've heard you guys have some big plans coming up. Can you talk about those?
Yeah, Lawn Buddy has a big year coming up. This spring, we'll be launching our service in both Wichita and Lawrence. Our app will be available on both iOS and Android. Later in the year, we will also be looking into expanding into warmer climates with more consistent, year-round lawn-care needs.
We are all excited to get our product fully launched and into the hands of our providers and customers.
Where do you hope to go from there? Where do you hope to be in five years?
I would love to see Lawn Buddy earn a large market share in this industry. To do this, we are focusing on our lawn-care providers, who we've dubbed "lawntrepreneurs." We don't want to brand our providers with Lawn Buddy, but instead allow small and medium-sized lawn-care companies to compete with larger companies by using our service.
What does ultimate success look like for you?
I truly believe that success is a direct byproduct of providing value to our customers. We really care about growing local companies in every location we launch, and I believe this will bring us — and them — success.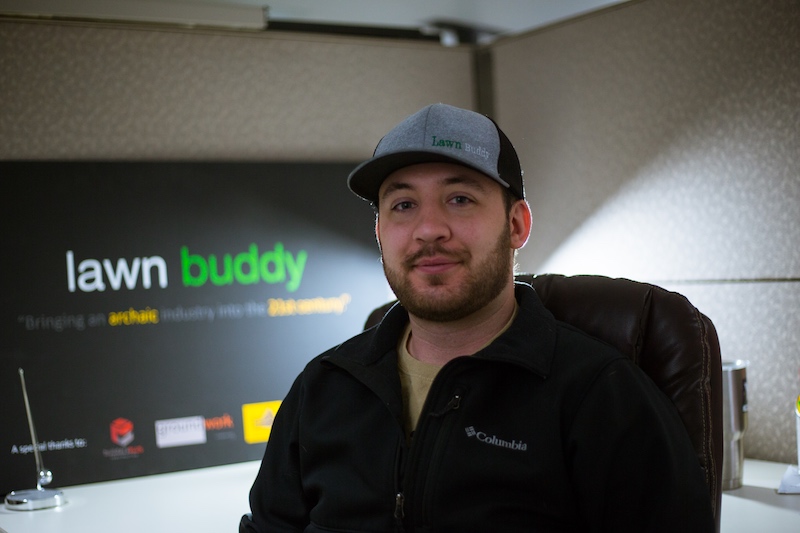 Could you talk about how you balance family with your new business?
While we do have plans to expand in the near future, my family currently consists of myself, my wife Sonya, and two fur-babies, Henry — a 30-lb. French Bulldog — and Bosco — a 225-lb. English Mastiff.
Balancing family with Lawn Buddy is both relatively easy and challenging at the same time since Sonya is a big part of Lawn Buddy and is the COO of the company — even though she also has a full-time job.
I drop Sonya off at work in the morning and pick her up in the evening. We do this to hold each other accountable. If it's 5:30 p.m., I know that I have to go pick up Sonya. Our marriage is very important to us and making time for family is huge, but we also realize that, in order to build something out of nothing, we're going to have to make sacrifices with our time.
I truly believe that success is a direct byproduct of providing value to our customers. We really care about growing local companies in every location we launch, and I believe this will bring us — and them — success.
What do you think of Wichita's current entrepreneurship scene?
Wichita has come a long way, even since we've lived here. I've been told that we moved here at the perfect time to start a business, and I'm very glad we did.
A lot of community members have really stepped up to the plate to help grow this entrepreneurial community. Leaders and programs have sprung up everywhere. The e2e Accelerator just started last year and served as a key rallying point for key players in the startup and business community.
The Chung Report also has really started identifying key pain points, as well as a solid path forward for the city.
Altogether, I really think our ecosystem is starting to develop. We are not there yet, but we are heading in the right direction to really bring back the entrepreneurial spirit and reputation to Wichita. I truly am honored and humbled to be a part of it.
What groups or organizations have helped you most?
The Wichita State University Center for Entrepreneurship played a massive role in getting us started. Without some of that framework, I truly don't think we would be where we are today. I owe WSU a lot for growth, both personally, and in the company.
We are thankful to GroundWork and other individuals such as Nancy Kersenbrock, Mark Torline, Richard Stevens, Sam Foreman, Jacob Wayman, Kenton Hansen and Benny Bowden, who have all helped us along the way.
What do you think could improve the outlook of Wichita startups?
Right now I think we just need a little time. The seed has been sown. Now we just need to continue to water and care for what has been started.
EDITOR'S NOTE:
Startup Diaries is designed to delve into the lives of Wichita entrepreneurs as they do everything they can to grow their businesses.
For the next 10 weeks, Steven will update us on his business and his journey. If you, as a reader, have questions for Steven about running a startup, reach out to The Chung Report via social media or our contact page.
SEE ANDREW'S POSTS HERE:
NEXT STEPS:
---
---
---
---