Wichita's four challenges may be most evident in its downtown.
The Human Capital Challenge can be seen in a business striving to find qualified talent.
The Perception Challenge can be seen in the whispered contempt for Wichita.
Downtown has improved, though, so we wanted to take a step back to see just how far Wichita has come. Below, we've compiled maps of some of the biggest projects to be completed downtown since the early 2000s. You'll also learn why downtown became a priority for city officials, private businesses and developers alike.
DOWNTOWN'S ORIGIN
What we now consider downtown Wichita used to be the entire city. A few blocks stemming from Douglas and Broadway was all there was. As the city grew into the late 1800s, it expanded to engulf Delano west of the river and since then was built up into the city we all know of today.
Through the 1950s, downtowns were important business districts, driving much of the activity for the city as a whole. But as urban sprawl took over the country, downtowns were largely forsaken for quiet suburbs, with workers using newly developed highways to commute from home to work.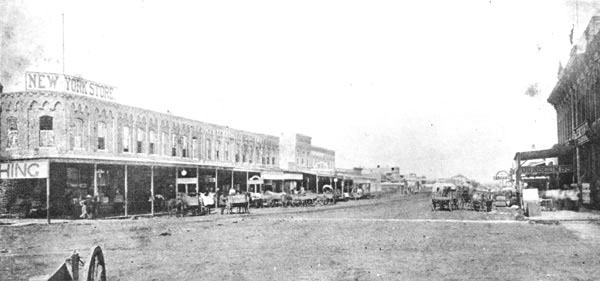 Douglas Avenue, looking east from Main Street, in the 1870s. PHOTO CREDIT: WICHITA PUBLIC LIBRARIES
This suburban sprawl recently began reversing as millennials entered the workforce, craving a dense, urban environment in which they could work, live and play. Recognizing a need to attract young workers — as well as businesses that need young workers — community leaders set out to renew the city core.
This renewal has focused on all aspects of downtown — from the arts and entertainment scene to offices and apartments. The city core could now be thought of as anything between Kellogg and Central to the south and north, and Sycamore and Washington to the west and east. But, even these parameters are fluid, as more efforts are made to connect outlying neighborhoods like Delano to the west of downtown and the Douglas Design District to the east.
Let's take a look at how Wichita's downtown has evolved, from the early 2000s to today and into the future.
PAST: 2000 - 2008
Wichita's modern downtown revival really began in 2002, when the Wichita Downtown Development Corporation (WDDC) was formed as a private, non-profit organization with the goal of connecting private businesses and developers with local government in order to stimulate new investment in the downtown area.
The WDDC worked to develop a database of businesses and available properties, a five-year strategic plan and a listing for restaurants, venues and apartments.
A downtown cultural revival also took place at this time. The Downtown Sounds Concert Series brought live music to the forefront, and the Tallgrass Film Festival brought independent film to a variety of Wichita venues in 2003.
Actual development during this time was focused on Old Town, which still serves as Wichita's primary entertainment district with a high concentration of bars, restaurants and nightclubs. A parking garage and the central Old Town Square were completed in the early 2000s to serve this area. Apartments and condominiums also began filling in the area, as more people were interested in moving downtown.
Important improvements were also made along the river, from Kellogg to Cowtown. These improvements placed the Keeper of the Plains monument onto a new, 30-foot rock promontory and complimented the newly developed Exploration Place.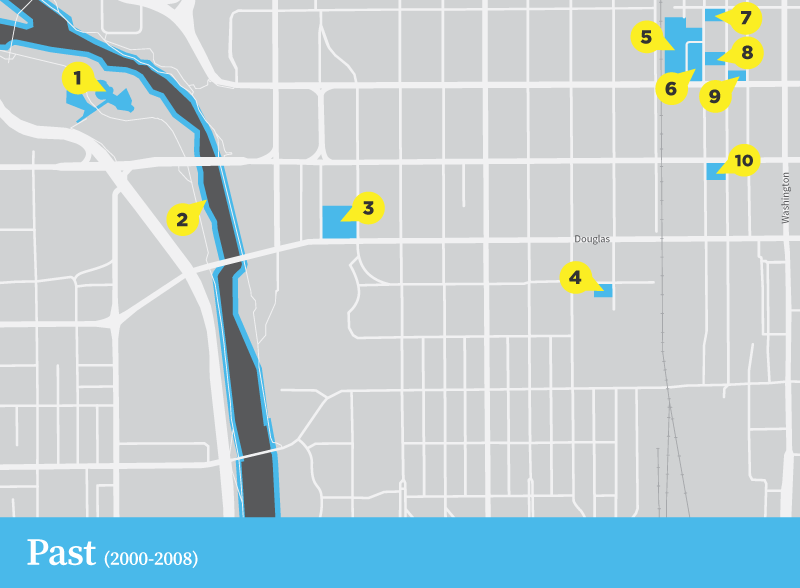 These are only a few of the projects completed between 2000 and 2008. For a full list of developments, visit DowntownWichita.com.
PRESENT: 2009 - 2017
Wichita's downtown revival ramped up in 2009, when the WDDC began work with the City of Wichita on Project Downtown, a master plan that would guide downtown investment for the next decade and beyond. In 2010, Wichita City Council unanimously adopted the plan. The Sedgwick County Commission followed suit the next year.
In 2011, City Council also adopted the Downtown Public Investment Policy, which aimed to provide a transparent process for developers seeking public investment from the city. In its first year of implementation, this policy drove an entire city block of development, leading to the first new building constructed on Douglas in 38 years.
This "Block One" development brought private and public sectors together to build a parking garage, which would serve the Ambassador Hotel and a new Kansas Leadership Center building.
Between 2010 and 2013, 38 projects were completed. During that same time, more than $291 million was invested in downtown through both private and public sectors.
The new INTRUST Bank Arena also opened in 2010, ushering in a new era of concert and athletics offerings for Wichita.
Today's surge in downtown development is also defined by downtown living, as more millennials and older adults crave the ability to live, work and play in the city core. Developers quickly moved to meet this demand, adding more than 660 residential units between 2010 and the end of 2016. More than 870 are in development now.
Demand is not expected to slow, either. In 2016, the Wichita Downtown Development Corporation estimated that Wichita's number of downtown residents would double over the next five to seven years.
With downtown living in high demand, other amenities, including retail, restaurants and entertainment venues, are set to follow.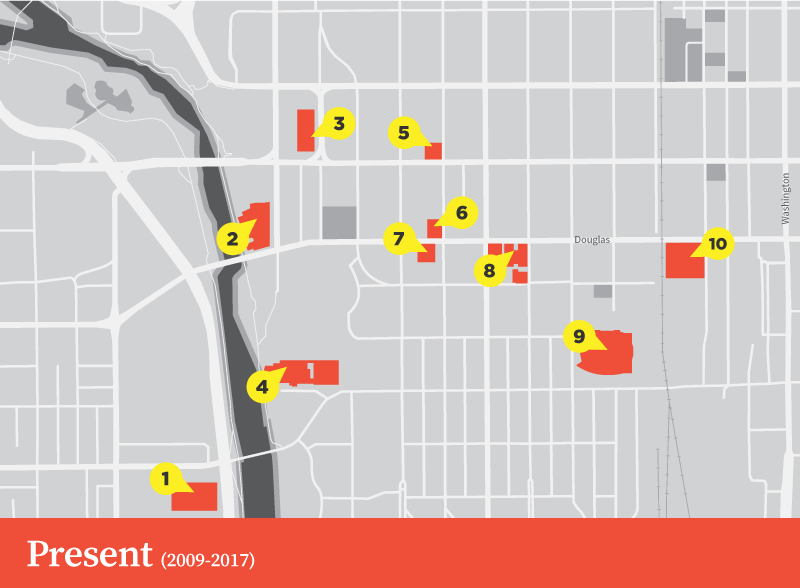 These are only a few of the projects completed between 2009 and 2017. For a full list of developments, visit DowntownWichita.com.
FUTURE: 2018 -
Wichita is poised and ready to meet the future and push downtown even closer to where it needs to be. Several projects are already being talked about as explosive catalysts, including the $60 million Cargill headquarters planned for Washington and Douglas, where the Wichita Eagle's building is now. With hundreds more employees moving into the area, significant development is expected to follow.
Many of the projects being considered for the next few years focus on infill development, or repurposing existing buildings and lots that may be currently underused. Some of the projects are getting creative, such as the Broadway Autopark Apartments, which will turn an old parking garage into a trendy apartment complex.
The State of Kansas also recently approved an expansion of a STAR bond district that would allow for improvements along the river, potentially including a new Lawrence-Dumont Stadium in an effort to bring affiliated minor-league baseball back to Wichita.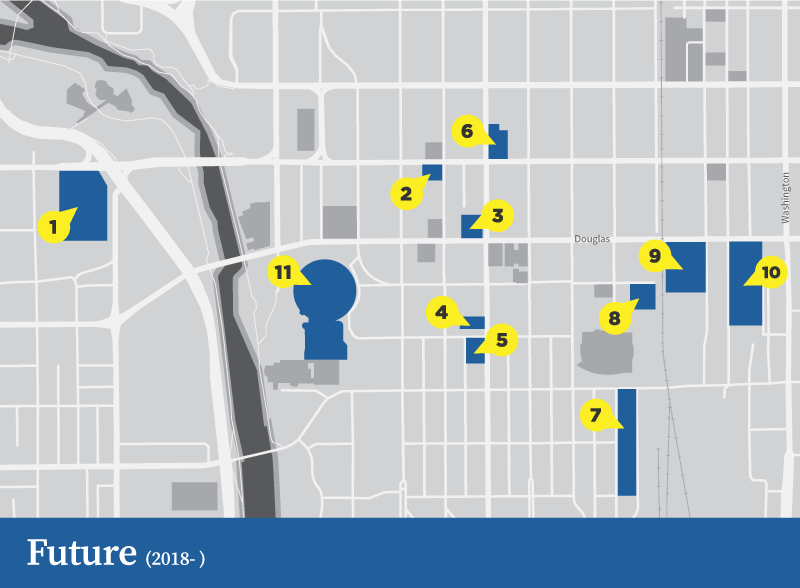 These are only a few of the projects slated for the next few years. For a full list of developments, visit DowntownWichita.com.
As the definition of downtown evolves, and as the concentration of downtown workers and residents increases, we can expect to see greater effort in connecting outlying neighborhoods like Delano, the Douglas Design District and even ones further east to College Hill.
A vibrant downtown is an important aspect for a successful city and shouldn't be ignored. Whether you live there or just visit on weekends, downtown is our home turf — a place of which we can be proud. And, with big plans in the works, our city's core will become even stronger.
Thoughts, suggestions or comments? Check us out on social media or send us a message
NEXT STEPS:
---
---
---
---