How do we view our entrepreneurship? And how does it mesh with the reality around us? We've set up this article to explore just that.
READ REALITY CHECK: PART 1 - HOW ARE WE DOING?
READ REALITY CHECK: PART 2 - THE BUSINESS CYCLE CHALLENGE
READ REALITY CHECK: PART 3 - THE HUMAN CAPITAL CHALLENGE
READ REALITY CHECK: PART 4 - THE PERCEPTION CHALLENGE
PART 5: THE ENTREPRENEURSHIP CHALLENGE
Entrepreneurship is the chance to create something out of nothing. Well, not exactly out of nothing — out of impossible hours, a visionary idea and a self-assuredness that stands you up after each knock-down.
While the Business Cycle Challenge focuses on established economic trends, the Entrepreneurship Challenge focuses on the ability to buck these trends and shake up the economy.
Reach Advisors analyst James Chung found that while Wichita was long an entrepreneurial powerhouse churning out the likes of Coleman, Pizza Hut and Rent-A-Center, its startup mindset had slowly faded. While the ideas are likely still there, the support and funding aren't.
Understanding and embracing our history of entrepreneurship allows us to create an ecosystem that encourages anyone with an idea to pursue it with the Wichita grit that helped create giants. An accurate view of how this challenge works — and how we perceive our progress — is important for us to take our next steps forward.
So how do we view our entrepreneurial ecosystem? And how does it mesh — or clash — with the reality around us? We've set up this article to explore just that. First, read about how Wichitans view the Entrepreneurship Challenge. Then, read about how the evidence either supports or refutes their views.
PERCEPTION: RECLAIMING OUR HERITAGE
More than any other challenge, respondents to our Four Challenges survey perceived progress in the Entrepreneurship Challenge. Wichita seems to be getting some of its swagger back in terms of creating successful businesses that disrupt the economy.
In his original research, Chung found that Wichita's startup density dwindled compared with other cities, and venture capital was practically nonexistent.
Respondents to our survey seem to believe Wichita is starting to turn things around — at least on the startup front.
Only 25.9 percent of respondents either disagreed or strongly disagreed that Wichita had been effective in the past year at creating scalable startups, while 29.8 percent either agreed or strongly agreed. The plurality — 44.3 percent — seem cautious in making a call either way.
Overall, these numbers reflect positively on an eventful year in Wichita entrepreneurship. But watch what happens when we ask about funding those startups.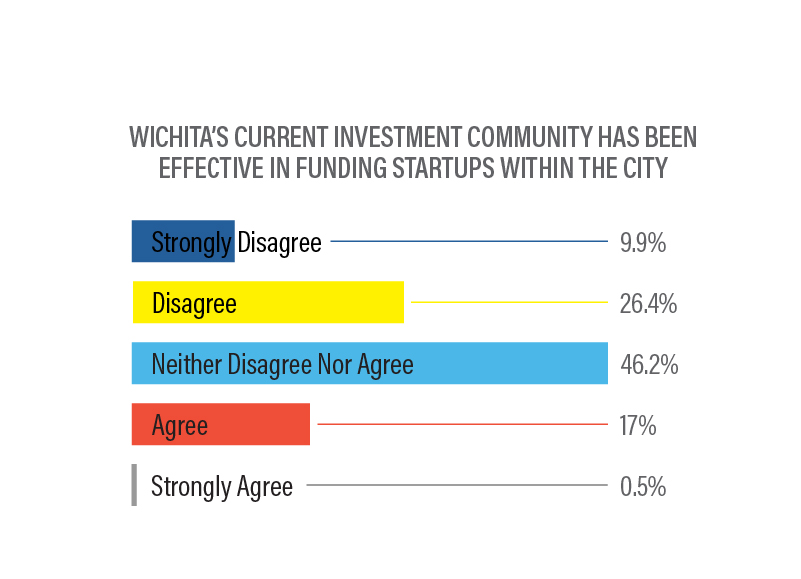 While these numbers aren't necessarily awful, they do decline from the previous chart. More people are on the fence, and fewer people — 17.5 percent — agree with the statement. Those who disagree go up to 36.3 percent.
It seems that Wichitans believe our entrepreneurs are creating startups worth funding, but investors aren't always able to follow through. This sentiment has been reflected in other conversations we've had about entrepreneurship.
With the split between creating fundable startups and not being able or willing to fund them, it makes sense that respondents were fairly split on Wichita's ability to compete with its peer cities.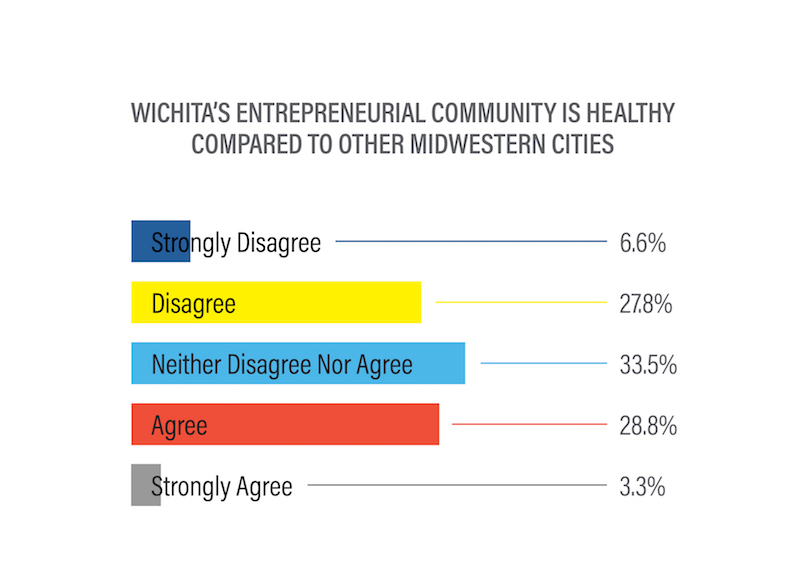 A total of 32.1 percent agreed or strongly agreed that Wichita's ecosystem was healthy compared with other cities while 34.4 percent disagreed or strongly disagreed.
While these are important insights, they are only our perceptions of Wichita's entrepreneurial landscape. Let's look at how it stacks against the reality.
REALITY: EXAMPLES OF PROGRESS
Just as no challenge has seen more perceived progress, the Entrepreneurship Challenge seems to have beaten out the others in tangible progress, as well. Though we have yet to put our angel investor money where our entrepreneurial mouth is, we have seen pieces of an ecosystem fall into place, filling much needed gaps.
Wichita's support system for entrepreneurs exploded to create mentorship opportunities and formal training for those with an idea to share. But these changes didn't happen overnight, but over years. They followed the work of local visionaries, including Kenton Hansen, who founded The Labor Party and Startup Wichita, Kevin Falting, who started Wichitalks, and John Dascher, who came to Wichita to found the e2e Accelerator after creating incubators in Florida, Delaware and even Denmark.
These are just a few examples of those who set the foundation for today's entrepreneurial community and who continue to push for success. Here is just some of the tangible progress they've helped create:
Wichitalks events kick off conversations between entrepreneurs, artists and the business community.
The e2e Accelerator sets off the explosion of formal support for Wichita startups.
WSU's Innovation Campus creates a space for young innovators to partner with businesses.
1 Million Cups gets the coffee and conversations flowing around Wichita entrepreneurship.
Global entrepreneurship community StartupGrind also enters the Wichita market.
Wichita construction business Builders Plus enters the entrepreneurship game with Groundwork.
MakeICT becomes a place for anyone with an idea and some know-how to create products.
Startup Wichita becomes a resource for anyone interested in immersing themselves in the ecosystem.
Wichita has built a robust and flourishing entrepreneurial ecosystem, but we're not done yet. While we have seen progress, other cities are not standing still. Out of the 14 cities listed in the 2016 State of the Silicon Prairie Report, Wichita ranks sixth in raw startup statistics, based on an algorithm that measures a variety of entrepreneurial building blocks. However, per capita, Wichita ranks last, falling behind cities like Manhattan, KS, Columbia, MO, and Ames, IA, which ranked first.
Progress is great to see, but we can never be satisfied with progress for its own sake. We have to up our pace and keep a sharp eye on other cities eager to attract our talent, ideas and investments.
WHAT WILL YOU DO WITH YOUR PERCEPTIONS?
All of the Four Challenges are vital to our success as a city. If one falters, the others can't make up for it. The Perception Challenge is vital for creating an identity that attracts a robust workforce. The Human Capital Challenge is vital for attracting and supporting a robust economy. The Business Cycle Challenge is vital for the overall support of our city's jobs and tax base, and the Entrepreneurship Challenge is vital to disrupting old ways of thinking to put Wichita ahead of the whims of the economy.
How we perceive these challenges is important, but it's what we do with those perceptions that matters most.
So what will you do?
NEXT STEPS:
---
---
---
---