How do we view the Four Challenges? And how does it mesh with the reality around us? Join us for a series of reality checks.
READ REALITY CHECK: PART 2 - THE BUSINESS CYCLE CHALLENGE
READ REALITY CHECK: PART 3 - THE HUMAN CAPITAL CHALLENGE
READ REALITY CHECK: PART 4 - THE PERCEPTION CHALLENGE
READ REALITY CHECK: PART 5 - THE ENTREPRENEURSHIP CHALLENGE
PART 1: HOW ARE WE DOING?
It's been more than one year since The Chung Report began sharing stories based about The Four Challenges. And it's been more than two since James Chung originally presented the findings of Reach Advisors' study on the long-term economic health of Wichita.
So how have Wichitans responded?
It's probably easiest to measure our response with the progress we've made versus the progress we still need to make. We're not at square one anymore, but we're not "fixed" yet, either.
Every challenge has seen tangible progress. Startup incubators have sprung up across downtown, Wichita pride is spreading into downtown-adjacent neighborhoods, and businesses like SNT Media have provided a boon to job growth in emerging industries.
But it's also evident that we're not there yet. According to Silicon Prairie News, Wichita's startup ecosystem ranks last per capita out of the 14 Midwestern cities listed, and Wichita tech businesses still cite finding adequate talent as one of their toughest hurdles. This is hardly evidence of victory over our challenges.


PERCEPTIONS MATTER.
There's a joke author David Foster Wallace once told: two goldfish swim by one another. One asks "how's the water today?" The other looks back with a blank face and says, "what the hell is water?"
Our perspectives make up our reality — the lens with which we view the world.
When it comes to the Four Challenges, it's easy to see a bit of progress and think that things are generally better. It's also easy to hear some bad news and think that everything is going wrong.
Our perception of progress can make or break us. If we think things are fixed, we run the risk of becoming complacent. If we think things are beyond fixing, we risk hopelessness.
Andy Grove, one of the pioneering founders of Intel, once said "success breeds complacency. Complacency breeds failure. Only the paranoid succeed."
Fortunately, Wichitans are currently looking somewhat paranoid.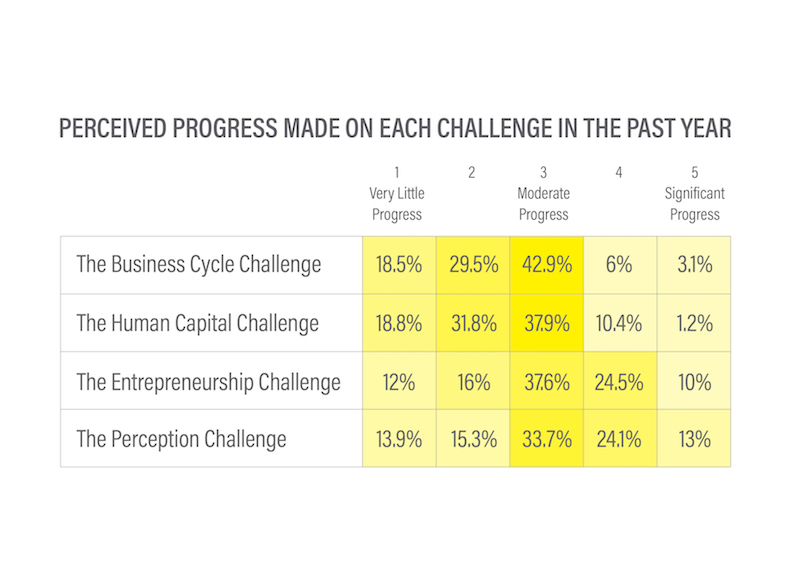 Last month, we ran a survey collecting thoughts from our readers regarding our progress. The bulk of our respondents seemed to be cautiously optimistic — aware of the progress made, but equally aware of the long road ahead.
Respondents felt that progress had been made on all of the Four Challenges, but entrepreneurship and perception were weighted toward more progress, while human capital and business cycle were weighted to less.
This is understandable because the victories in entrepreneurship and perception are very visible. Entrepreneurship incubators and startup competitions tend to dominate the pages of the Wichita Business Journal and our business community luncheons and events. The Wichita flag flies high across downtown and into the adjacent neighborhoods, while general good vibes are spread amongst Wichita residents.
But are these good vibes surrounding anything tangible, or have we embraced the idea of Wichita without actually refreshing our identity? Also, are our entrepreneurs making it out of the startup stage, or falling flat when it comes to early funding?
In the business cycle and human capital challenges, the ups and downs are more hidden. Every once in awhile, a sign of something good or bad will show up in the Wichita Eagle, but the majority of us are left guessing at the current state of business in Wichita.
While we hear of a diversifying economy and great opportunities in higher education, our technology companies still struggle to find qualified talent in Wichita, and our aviation sector still swings wildly with the winds of the economy.
In his research, James Chung says cities like Wichita have found ways to overcome their challenges. But it came at a cost.
"Unfortunately for most of those [cities], it took a crisis to pull the city together," Chung says. "So the question is, 'Can Wichita pull together before an unexpected crisis?'"
Our perception of these challenges has to be "do or die." And our response has to be urgent and unrelenting. We can't give up when we see progress being made — or when we see progress slipping away.
We need a reality check — constant reminders of how far we've come, how far we need to go and what's at stake.
In the next few months, join us as we dive into a series of reality checks on these four challenges to learn how far Wichitans believe they've come since James' original presentation — and how much further they believe is left to go.
NEXT STEPS:
---
---
---
---