Join Wichita entrepreneurs Spencer Steinert and Jared Goering as they set out to change the world, starting with their human-performance tech company, Vytal.
WEEK 7:
In this installment of Startup Diaries, Vytal founders Spencer Steinert and Jared Goering talk about their decision to enroll at Wichita State University, after nearly foregoing college completely to focus on Vytal. Check out previous diary entries to learn more about Spencer and Jared, their team and their vision to change the world.
WHY WICHITA STATE?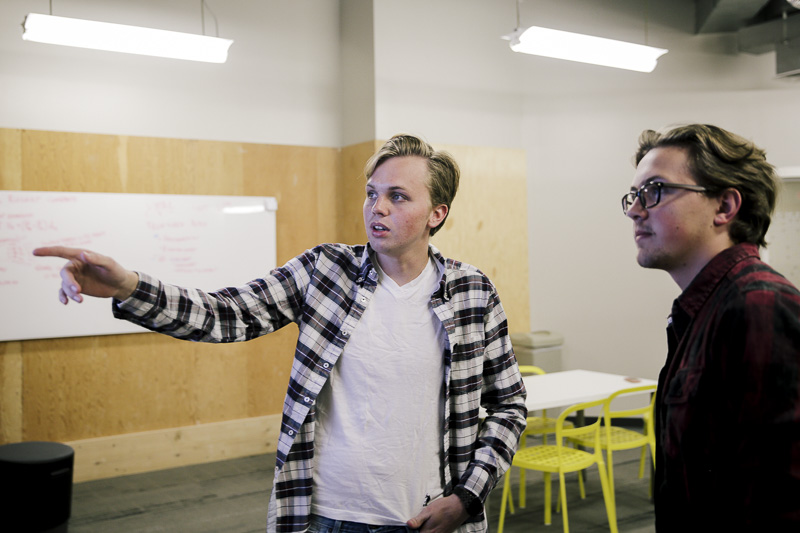 Jared, left, and Spencer go over company information in Widget, a startup workspace in Devlin Hall, home of Wichita State University's Center for Entrepreneurship.
Our interaction with Wichita State University began only about a year and a half ago. Before that, college wasn't even on our list of things to do after high school.
During our senior year of high school, we were very focused on Vytal, so going into full-time entrepreneurship after graduation seemed like the most logical option, much to the chagrin of our peers and family members. We simply felt that traditional college would be a waste of time and resources.
However, a trip to Riverfest got us thinking twice. That's where we met Jacob Wayman from the e2e Accelerator. He was manning a booth, sharing information about e2e.
We had very few connections in Wichita, but by the end of the day, Jacob had set up meetings for us with people he thought we should know, including David Johnson. David and his business partner Adal Bilbrey would, over the next few months, mentor and consult us on our entrepreneurial efforts.
Jacob also introduced us to Mark Torline, the head of Wichita State University's Center for Entrepreneurship. One of the first questions Mark asked us was, "Where are you going to college?" When we told him our plan, he persistently told us there was no way we weren't going to attend WSU. He introduced us to Jeremy Patterson, director of the Human Performance Lab (HPL) and the Institute of Interdisciplinary Creativity.
The HPL was where the concussion and balance app Sway was created. Sway was the first FDA-approved smartphone application and the cofounder, Chase Curtis, has gone on to be an expert and consultant in the wearable market. Chase talked with us on Vytal and really helped point us in the right direction. This, combined with the range of industry partners the HPL works with convinced us that WSU is where we need to be. We immediately started working with Jeremy and the lab in the final weeks of summer.
School was about ready to start, but we still hadn't committed. That changed when Jeremy offered us a place in the first cohort of the Masters of Innovation Design (MID) program, a two-year Masters course focused on cultivating design thinking processes and bringing together a skilled interdisciplinary team. The cohort included 12 people from four different countries with backgrounds ranging from astrophysics and aerospace to art and design. We are extremely fortunate to be able to work with these people on a daily basis and to receive this kind of training for our future.
As part of this group, we have partnered with Johnson & Johnson to assist with the company's new product innovation. Johnson & Johnson sends us a list of problem prompts and we work as a team to come up with solutions that likely wouldn't have been thought of otherwise.
This partnership with Johnson & Johnson helped in creating a spin-off organization out of the MID group called the Innovation Factory. Through this organization, MID members will work alongside startups and companies to come up with innovative solutions to problems they are facing. One of the main areas we will be helping in is that stage when you have an idea but don't really know how to get started and take it further. This is where a lot of really good ideas get lost.
It's not lost on us how insanely cool it is to be able to do these kinds of things with these kinds of people. And if we would've skipped college to try to build Vytal on our own, it almost certainly would have led to disaster.
Instead, we are here because a lot of great people were willing to take a chance on us. We've joined a sort of family here at WSU with people that not only share our vision for the future, but will help us build it.
OTHER POSTS:
NEXT STEPS:
---
---
---
---